Nexus 7 at London Museum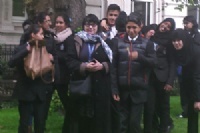 London Museum trip - "a great day"

The Nexus 7 programme has had a wonderful year together, and we were very lucky to have a number of fantastic trips during this time.

The latest of these trips was on May 19th to the London Museum.Mrs Korzeniowska, Ms Merchant, Mr Caines and Miss Cripps took the group to see a variety of exhibits at the museum which is close to the Tower of London.

The students stopped and 'lunched' in Postman Park, where the group assembled for some pictures.

It was a great day and fun was had by all.