Sombol interviewed on BBC London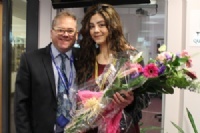 "I thought she was really fantastic" - Robert Elms (BBC London)
The day after the Get Creative workshop, Sixth Form student Sombol Tayer, was interviewed alongside Sam Cairns from the Cultural Learning Alliance on BBC Radio London. They talked extensively about what was discussed at the workshop and the importance of both creativity and the arts in education.

Click on the image below to hear Sombol and Sam Cairns on the Robert Elms show :
Sombol championed this cause so passionately and eloquently that at the end of the interview BBC London presenter, Robert Elms (right) said: "She was great! I thought she was really fantastic young Sombol Tayer."
We also interviewed Sombol who is currently studying Photography, Graphics and Anthropology and this is what she had to say about the workshop and her visit to BBC Radio London:
What did you think of the Get Creative workshop?
The day actually ended up being extremely productive and beneficial not only just for me but everyone that was there. The guests that we were lucky enough to have join us, meet and work one on one with were great. The day allowed us all to express our opinions and the way we felt about teaching and what direction we thought it would be going in, in the future.
What was the highlight of that day for you?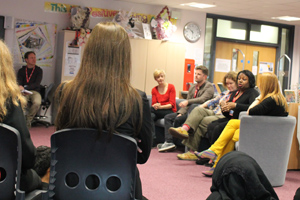 The highlight of my day would definitely have to be listening to the guests that had come in, one of the main things I remember from that day, and it's something I think I will remember forever, as I believe it was extremely motivational, was what Children's Laureate Malorie Blackman (pictured left talking at the workshop) told us. She said that when she wrote her first book and sent it off to the publishers she received a letter back and it stated that they didn't want to go forward with publishing her book, then she decided to write another one and send it to another publisher. Once again, she was rejected, and after 82 attempts she said she received a letter stating that someone wanted to publisher her book. I found this very inspirational as she didn't give up and in the end she got want she wanted and she's extremely happy where she is right now in life.

Based on the issues raised what changes do you feel should be made to Arts education or education generally?
One of the main issues that was raised was the lack of awareness of the art subjects, and how some of the students said that their parents don't acknowledge Art as being an actual subject to study, which I believe is ridiculous as Art is just as important as any other subject but in its own way of course.
The Radio Interview - what was that like and how did you feel?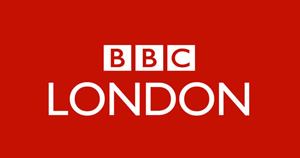 On the whole journey to BBC London radio station I was terrified and so nervous, while having Mr Ward and Ms Stone both trying to calm me down and support me as much as they could. I constantly kept re reading through some notes I had made about possible questions I may be asked. However, as soon as I got in, Robert Elms whose show we were featuring on was very welcoming and told me to take my time and before I knew it, 15 minutes of air time was over and I actually ended up having so much more to say. It didn't feel like an interview at all, rather a discussion of what took place the previous day, the issues raised and how I felt about it all.