Solar Eclipse disappointment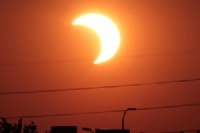 Cloudy skies prevent viewing - it should have looked like this!
Cloudy skies prevented students witnessing a spectacular Solar Eclipse on Friday 20th March. Students had been learning about the eclipse in the week leading up to the key day thanks to some excellent briefings from the Science Department. Specially prepared telescopes and viewers were also sited on the playing fields and the whole school came out to witness this historic event … hoping that the cloud cover might break to allow safe viewings using special eclipse glasses or pinhole projection cards.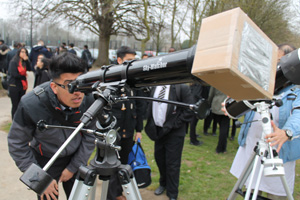 Unfortunately the cloud cover remained and all that was witnessed was a darker and colder morning with increased wind speeds … all of which were measured by students as part of a nationwide monitoring exercise.
We are hoping for better weather for the next Partial Eclipse in August 2017 or (for some of the students) Total Eclipse in September 2090!