Inspiring Women in Science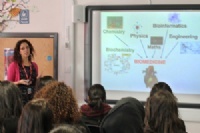 Dr Pineda-Torra from UCL spoke to Year 10-13 girls

On Tuesday 10th March Heston Community School linked up with University College London's 'Inspiring Women in Science' programme to provide an excellent opportunity for our Year 10-13 female students to hear an inspirational talk by Dr Inés Pineda-Torra. Dr Pineda-Torra has vast experience spanning many different countries, and is currently a senior lecturer in the Centre for Clinical Pharmacology which is part of the Division of Medicine at UCL. This talk provided students with a stimulating experience of how women can excel in the various scientific fields, with a more specific focus on Biological Sciences.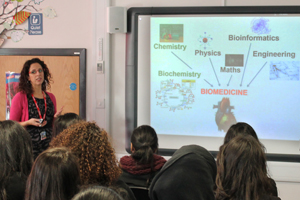 Dr Pineda-Torra detailed her experience from studying for her undergraduate degree in Madrid, through to completing her PhD in Pharmaceutical Science in Lille. She also provided an insight into the up to date research that she is involved with, alongside her role as a Senior Lecturer. Dr Pineda-Torra also detailed a typical 'day-in–the-life' of a Senior Lecturer at UCL, which provided students with a greater understanding of university life. This talk provided students with a lot of information regarding the possible routes available within the science fields.
We would like to thank Dr Pineda-Torra and University College London for providing such an insightful opportunity for our students.