Congratulations to Duke of Edinburgh Award winners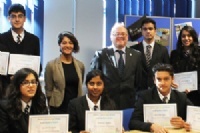 Plus Ayan's report on her DofE experience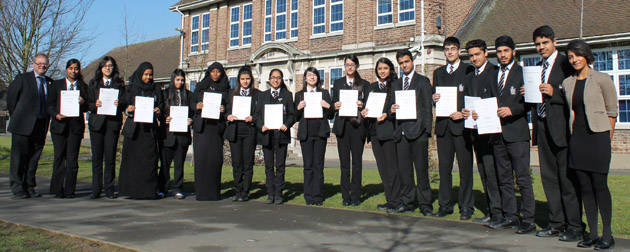 Bronze Duke of Edinburgh Award winners were presented with their certificates by Headteacher Phil Ward who congratulated the students on their achievements and encouraged them to continue to do higher awards in the scheme. He also presented them with Headteacher's Awards in recognition of their dedication and commitment to the D of E programme.
Ms Iena Dua, D of E Co-ordinator for Heston, also congratulated the students and said: "I am very proud of all of them, they have worked hard to get their awards and that will be recognised by universities and employers in the future. Not only is it great fun to be involved in the D of E programme but it is also a great "qualification" to have on your UCAS personal statement and CV"
Well done to the following students:
Bronze Award: Sherestha Bhatt, Fahima Abdirahman, Jaskirat Singh, Karina Malhan, Karan Brar, Naval Khalsa, Amee Nakum, Manasa Chakka, Roop Khangoora, Janki Pankhania, Sarosh Hasnani, Jemisha Bhalsod, Sakura Suzuki, Dilpreet Khangoora and Ayan Abdillahi.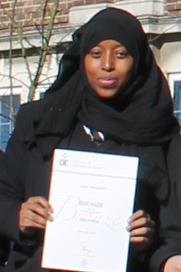 Ayan (pictured right) has written a report on her D of E experience – here it is:
"My name is Ayan Abdillahi and I am writing about the Duke of Edinburgh scheme that I was fortunate enough to experience for a year and a half now. There were so many different skills that I learnt and so many things that I wasn't able to do before and I am proud of what I accomplished. I also think that it was an amazing experience and if you are to be offered to do it that you should seize the opportunity as it is life changing.
My favourite part of my D of E experience was the expedition. It was over 1 night and 2 days and was one of the best experiences I have ever had. Our second and examined expedition was at Box Hill and there were many skills needed that we were able to put in place after what we had learnt from our after school sessions and our practice expedition. On the practice expedition it was rainy and harder to walk without sinking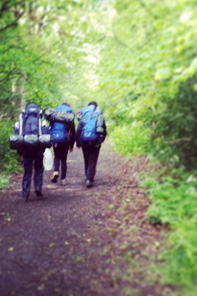 into the mud but on the examined expedition it was sunny and much easier to walk which everyone was pleased about. There were many things too see such as animals and farmland as well as amazingly built houses which we all viewed during our expedition. Our aim in the expedition as a group was to see if the locals were friendly and would speak to us. Shockingly every single one did and we were pleased. Our tents were fiddly but once you make it right you can finally relax after a long days walk and move on to cooking your food before going to sleep. The second day was far shorter and the quicker we did the expedition the quicker you could go home! We all managed to do our second walk on time and were delighted to go home. I enjoyed it a lot and would be happy to do it again.
There were also other parts that made up my award which were voluntary, physical and skills. The voluntary section helped me to be more outgoing to my community and helping children doing their homework made me feel that I was giving something back and appreciating what I have been given as well as the Duke of Edinburgh award. I enjoyed doing this and it gave me more skills in helping children and will help me in the future.
In conclusion the Duke of Edinburgh scheme involves some wonderful things: from doing an expedition to jogging in a park; I think that words can't show how much I enjoyed it. I would highly recommend anyone who is interested to take the opportunity and seize it as it is life changing and beneficial."