Impressive work from Basketball Girls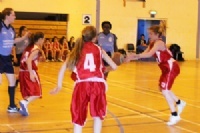 Great results and congratulations Bethany ... selected for England!

All of Heston's Girls' Basketball teams are doing very well with the U13 and U15 teams winning through to the last 16 in country and recent games for the U14s and U16s have shown that there is real strength in depth on the basketball front.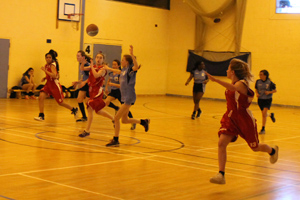 Our U14s girls qualified for the London Schools' Finals with a resounding win over Hayes School (Bromley) on Tuesday 3rd March. Faith Mannion (Year 9) led the way with a commanding performance and newly-appointed U13 girls' captain, Gurpavan Johal (Year 8) produced a powerful display, top-scoring with U14 captain, Lara Hassan (14points apiece).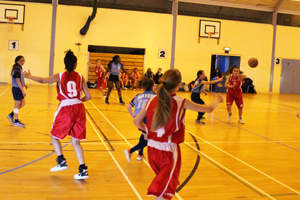 However, the performance of the evening was from the youngest member of the squad, 11 year old, Alexandra Enea, who mesmerised the opposition with her trickery and range of passing to clinch a trip to London Schools' Final Fours – an impressive team effort resulted in a 48:16 victory.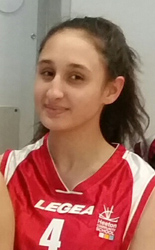 The U16 team travelled to Haringey two days later to play reigning English Schools' champions, Greig City Academy (GCA). Travelling with a young squad (a mixture of Year 7 to 11 students), coach Mr Stefan McGarrell was confident that Heston would give GCA's team of Year 11 students a run for their money. Bethany Mann (Year 10 - pictured right), whose excellent skills have been recognised with her selection in the England U15 Girls' Development Squad, playing so well put on an outstanding display of speed, guile and trickery. However, GCA demonstrated why they haven't been beaten in the country for 4 years. Their strength and movement was a joy to watch - for the neutrals! GCA did win through and go on to play in the London Schools' Finals.
Raynes Park High School suffered a 50:1 defeat at the hands of our U13 team and this result helped secure a place for Heston in the last 16 in the country. This is particularly impressive for a team made up primarily of Year 7 girls who are well coached by Year 10 students Isha Purba and Bethany Mann.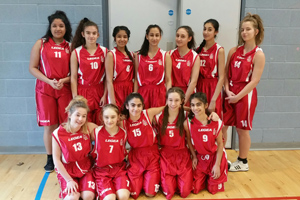 A much closer game saw our U15 team beat Platanos College, away in South London 49-54 to progress to the last 16 nationally.
Mr McGarrell said: "I was really proud of all our teams' performances. To get so far in the strongest region for basketball (London) and to be in the top 16 nationally is a credit to the skill and hard work of the girls. We have a gifted group of girls and we look forward to seeing them develop together in strong teams which will challenge for more honours in the future."