Heston Gets Creative with the BBC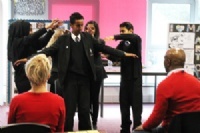 Students work with visiting artists to debate creativity in education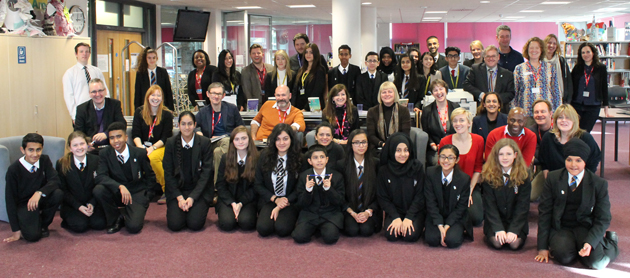 Heston Community School is a partner in the Get Creative campaign that is designed to encourage more people to be creative. The recent launch by the BBC includes a number of celebrities talking about their creative talents … Johnny Vegas is a potter, Matt Baker an artist and Kate Moss created her own clothes as a teenager. Click here to see what they have to say about the campaign.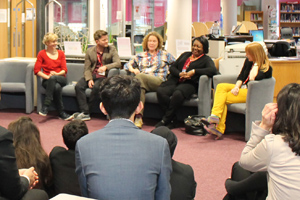 Heston students were involved in one of the launch events in association with the Cultural Learning Alliance. Students from all year groups worked with teachers and artists to explore the importance of creativity and art in the future of education. This workshop involved groups of students working with a variety of visiting artists including: Children's Laureate – Malorie Blackman; Actors - Robert Stephenson, Lucy Ellinson, Katherine James and Martin Heaney; Dancers and Choreographers – Andrea Puerta and Matt Flint and Potter, Kate Malone.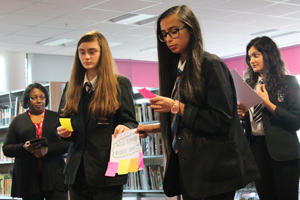 The groups then presented their work to a panel of education and arts leaders including: Laura Gander-How, Director of Education - Arts Council; Paul Reeve, CEO - Into Film; Sally Bacon, Executive Director - Clore Duffield Foundation and Ben Payne, Co-Director - Ministry of Stories.
The students thoroughly enjoyed the workshop, which was filmed by the BBC (when it appears on their website we will provide a link) and also impressed our visitors. This is what some of them said:
Kate Malone said: "I was invigorated by the pupils and the event also brought home the value of creativity like a shot in the arm! Congratulations to Heston for creating such a fertile place for the kids."
Martin Heaney said: "I work a lot in schools as an artist and producer and it was so refreshing to hear such strong advocacy for the arts and to work with young people who were so confident, articulate and passionate about creative education."
Laura Fuller from A New Direction said: "Totally awesome day at Heston Community School today … a room full of creativity and great ideas from students"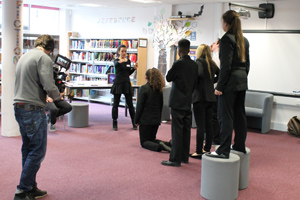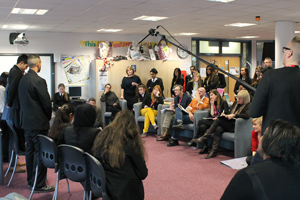 Headteacher Phil Ward thanked all the visitors and students for an excellent day and some thought-provoking final presentations. He went on to say:
"From what we have heard today it is clear that the young people want education now and in the future to be creative and fun. Creativity is a crucial skill that young people are going to need to solve the pressing problems of the world of which one day they will be the elders. At Heston we talk about the power of creativity and the arts to change lives. Heston is a creative school. It is special."
We often talk about the fact that we live in a fast developing, technological world but where would this technology be without creativity and what use would it be without people who can be creative in using it.
Therefore, any policy or manifesto for creativity in education needs to be about everybody and not just the few. You can be creative in Maths, Science, Music, Dance, Teaching, Science, Engineering and Cuisine to name just a few. A big part of being creative is looking for new ways of doing things within whatever activity in which we are involved."