Aman and the Physics Olympiad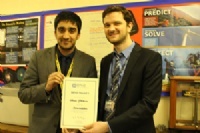 Congratulations to Aman on his success in the British Physics Olympiad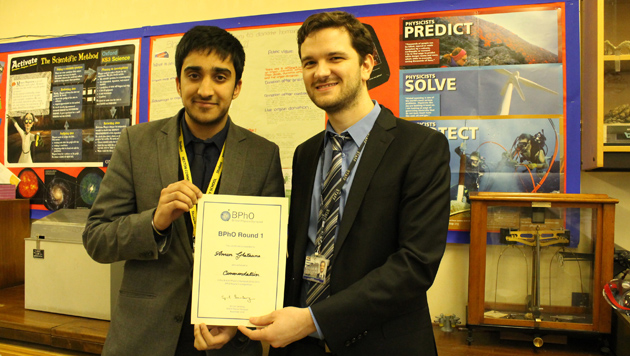 Year 13 student Aman Ghataura entered the British National Physics Olympiad competition and was awarded with a Commendation Certificate for his work. He is pictured above with Assistant Curriculum Leader for Science Mr Stuart Newton.
Aman, who is planning to study Physics at Imperial College next year, had to sit two 90 minute examinations as part of the competition, he said: "The exams were challenging but also interesting as they explored different and unusual elements of Physics. I was pleased to get the commendation as well as the experience in the Olympiad."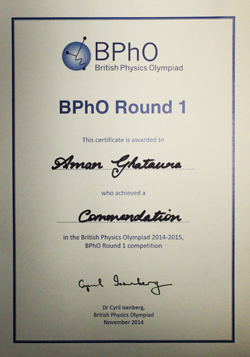 Mr Newton said: "The Olympiad enables students to challenge themselves and have fun developing their problem-solving skills. These skills are required for admission to the top universities and I hope that Physics students will be inspired by Aman to take on the challenge in Year 13 next year."
The competitions are designed to test understanding and problem solving skills and are open to able young physicists in school years 11-13.
Participation in a British Physics Olympiad is a challenge for able students which allows them to:
Have fun problem solving
Test their knowledge with stimulating questions
See the real-world problem-solving potential of Physics
Practice open-ended and unstructured questions, as seen at higher levels of study
Gain a prestigious award for CVs and UCAS forms
Develop the skills required for admission to the top universities
Compare their attainment with students from all over the United Kingdom