First Give Final ... £1500 for charities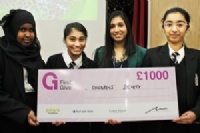 Year 10 students present for their chosen charities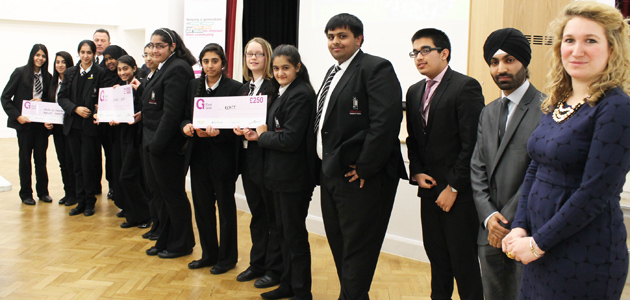 The First Give Final saw the best teams from each Year 10 Tutor Group making presentations about their chosen charities to win £1,500 in grant money for their charity.
First Give is a charity who work in partnership with secondary schools to help young people to give their time, tenacity and talents to improve their local communities. The programme they run sees teams of students choose a charity to investigate and work with before they make their presentations.
Louisa Searle, First Give's Programme Manager was the host at the final and was impressed by our Year 10 students: "'It was truly moving to see Year 10 students from Heston Community School take on board the messages of community, charity and social action that First Give seeks to promote. The students' hard work and passion was clear to see and I was so impressed with their presentations for their charities. Thank you to all the Year 10 students and teachers who ran the programme with such integrity."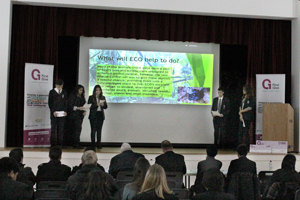 The presentations were made to a judging panel of Sam Bennett, Borough Commander of the London Fire Brigade, Michael Wilkinson, President of Hounslow Rotary Club and Heston's Head Boy, Kumail, and Deputy Head Boy Harmeet. The judges marked each presentation and the students' responses to questions based on their delivery, creativity and knowledge of their chosen charity.
Sam Bennett said: "It was a rewarding experience and very humbling due to the confidence and passion with which the presentations were delivered. Well done to all those that have taken part in the process."
The panel had a difficult job as the case for the following charities were presented: RSPCA, Neighbourly Care, The Children's Society, Food Bank, Standing Together against Domestic Violence, REACT and ECO.
And the winners were …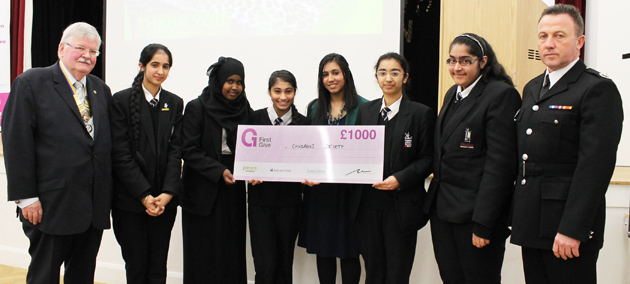 Overall winner (£1,000 grant money) – The Children's Society based at Whitton represented by 10 Orange – Navjot, Hibaq, Harjeet, Eankarjit and Jenna pictured left to right above with Judges Michael Wilkinson and Sean Bennett and their proud Tutor Ms Natalie D'Lima.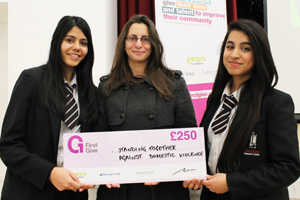 Runner up (£250 grant money) – Standing Together against Domestic Violence represented by 10 Red – Anisha and Moskaan pictured left to right with Katie Stickland from Standing Together who said: "I thought they did an amazing job, you could see the effort they have put into it. When they came into the office they were well prepared with their interview questions and keen to learn about our organisation, how our charity benefits other people and what they could do to help. It's been a really enjoyable experience and I'm very glad to have been able to see their presentation and look forward to working with them in the future."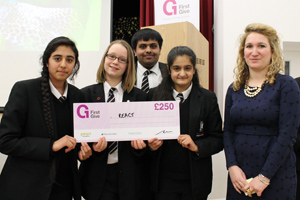 Runner up (£250 grant money) – REACT represented by 10 White – Janeesh, Chelsea, Jatin and Aneesa pictured left to right with Louisa from First Give.
As Head Boy Kumail said to all the students who presented for their charities: "Well done … you all did an excellent job for your charities and the presentations were superb."