Spark! Partnership Award for Mrs Chhibba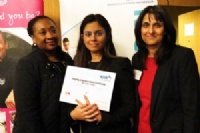 Teacher's work with local businesses recognised with award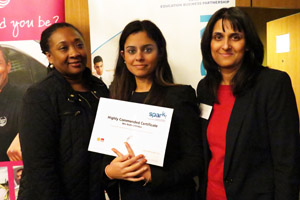 Congratulations to Mrs Nidhi Chhibba (pictured left centre) who was presented with a Highly Commended Award at the Spark! Annual Partnership Awards in November. Spark! is a charity that works with schools and businesses to inspire young people and their awards recognise individuals and organisations who have been particularly effective in doing this.

Mrs Chhibba's award was in the Teacher of the Year category for the teacher that has "gone the extra mile" in supporting education-business partnerships over the last year. During the year she has developed links with the Hounslow Chamber of Commerce, Career Academy UK, business groups and key professionals all of whose involvement at Heston Community School has brought an extra dimension to the teaching of Business Studies, Economics and IT.
Much of the good work done has been featured in the news section of the website and has included the launch of our Career Academy and our involvement in the Mosaic Enterprise Challenge, which won the award for the best schools/business partnership (representatives involved in the project included Mrs Chhibba (second from left) are pictured right) as well as organising numerous trips and visitors to bring the business world alive for her students.
Mrs Chhibba who is Assistant Curriculum Leader in our Business Studies and IT Department attended the awards ceremony with colleagues from the department (pictured at the top of the page) said: "The Mosaic project was very well received by Heston students and the Career Academy will bring some excellent benefits for our students through mentoring, workplace visits and getting valuable work experience. I have really enjoyed building links with businesses and helping our children to gain a real understanding of how they work."