Hampton Court Palace
Year 12 History students explore Tudor Britain at the Palace

On Tuesday 9th December, Miss Hayward's Year 12 History class went to visit Hampton Court Palace as part of their AS course on Tudor Britain, here is their report: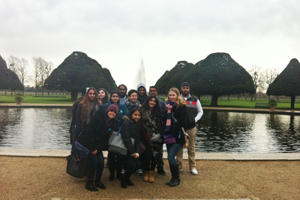 After walking through Base Court and learning about Cardinal Wolsey's Astronomical Clock, we discovered Henry VIII's kitchens which cooked for 600 people twice a day, and Miss Hayward gave us a tour of Henry's Great Hall, Privy rooms and the Tudor chapel. It was really interesting to see the things we have been learning about in real life instead of just in our textbooks, especially understanding how Henry conducted his government in his 'Great Chamber' and 'Privy Chamber'.
After lunch we explored the Georgian parts of the palace and were surprised to learn that King William III had three throne rooms! If his guests and visitors were really important they would be invited through to the last, smaller throne room but if they were lesser nobles they would have to stand in the King's Chamber with his really impressive throne. We're really glad we went (even though the maze was closed!) as it will really help us picture Henry VIII's court when we learn about it in detail next term.