Turkish Boxing Champion inspires students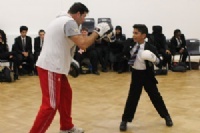 Ahmet Canbakis provides a motivational boxing evening for students

Ahmet Canbakis, seven times national boxing champion of Turkey and three times Balkan champion, provided a motivational evening for Year 7-10 students. Ahmet, whose daughter Safia (pictured above with Ahmet) joined Heston's Year 7 in September, runs Cranford Amateur Boxing Club and he brought a number of his young boxers along to demonstrate their skills.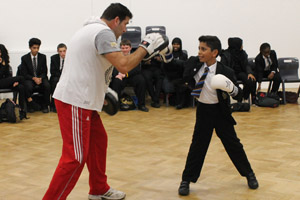 The students learnt about Ahmet's boxing life and how his dream of competing in the Seoul Olympics in 1988 was shattered when he broke his right hand a week before the Games were due to start. He also talked about the dedication needed to be a champion as well as emphasising the importance of health, fitness and well-being.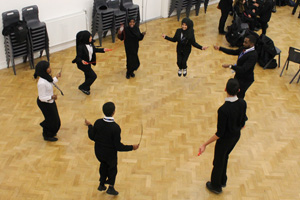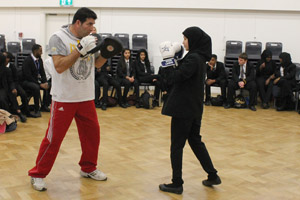 The students who had been selected to attend this session then had the opportunity to throw some punches at Ahmet and take part in some skipping training.
The evening was a great success and certainly inspired the students.