Sixth Form Open Evening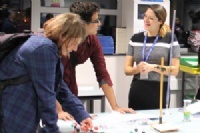 Students and parents find out about life in Heston's Sixth Form

Heston's Sixth Form Open Evening gave Year 11 students the opportunity to find out more about life in the Sixth Form. Our own students as well as those from other schools who are keen to join Heston Sixth Form were able to discuss subject options with all departments … not only with Teachers but also with current Sixth Form students.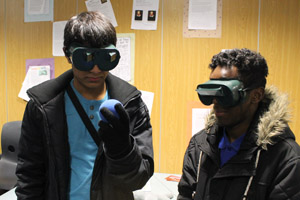 Students were able to find out more about the areas covered in each subject, some of which are new subjects that have not been studied previously, such as Psychology where the goggles pictured right are used in lessons to demonstrate how the brain functions ... they make the world appear upside down.
Prospective Sixth Formers and their parents also had a brief talk from Mr Hywel Evans, Post-16 Learning Co-ordinator, and Head Girl, Zahra Choudhry (pictured at the top of the page). Both of them talked about what Heston can offer beyond the teaching that produces outstanding results. They talked about the opportunities that exist outside the classroom, the great help that exists to get the right career and university course and how important the Sixth Form students are as leaders in the school … they are listened to, as Zahra said: "You are valued as key members of the school and the students' voice is respected and acted on"
Individual interviews with all Year 11 students followed the evening where specific pathways are discussed as well as the important decisions on subject choices that will determine future study and careers.