Aspiring Medics & Russell Group Universities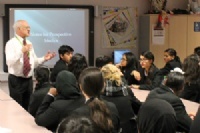 Peter Rawling delivered two sessions to Years 10-12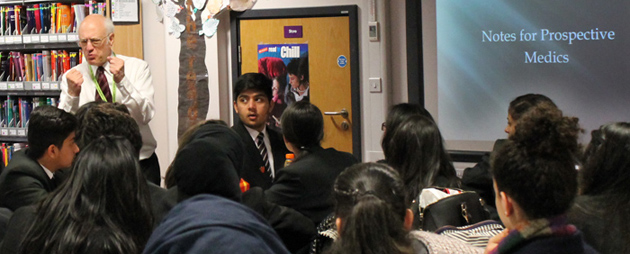 Heston students have benefited from two sessions led by Peter Rawling. Peter has a wealth of experience in assisting students in making successful applications to Oxbridge, Russell Group Universities and Medical Schools.
The first session covered medicine and 50 aspiring medics from Years 10-12 attended this inspirational talk. Peter engaged the students in thought provoking discussions, including medical ethical issues, while passing on vital knowledge regarding the various fields of medicine and the pathways available.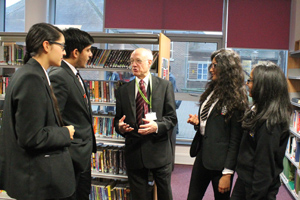 The students who attended were thoroughly inspired by the talk and had the following to say:
"I found Peter's talk very motivational and it has certainly woken me up to the demands of universities and how studying medicine could play a huge part in my life. Peter offered us his personal knowledge on how to approach medical interviews when the opportunities arrive and how best to answer their questions."
Nikhil Singh - Year 10
"The Aspiring Medics talk by Peter Rawling truly was an eye opening experience for me. It gave me an insight into what reading Medicine is all about and the qualities required to become the 'ideal doctor'. This talk helped me realise the importance of having a driven attitude and it enabled me to understand what is required of me on my journey to become a future medic. What's more, an aspect of the talk included having to face a continuous set of challenges on a day-to-day basis as a doctor - something which I appreciate most about the field of Medicine."
Karishma Bagga - Year 11
"The talk was very informative and has given me a clear insight on how to approach the field of Medicine. The talk was very interesting."
Akash Khambay - Year 11
The second session involved 60 students from Years 10-12. Peter provided students with a wide range of information regarding making applications to, and studying at Russell Group universities. Peter ensured all students were aware of the importance of their individual experiences as well as their academic grades. Peter reinforced the need for students to enhance their wider reading and research, providing important websites and resources to assist this process.
The students who attended had the following to say:
"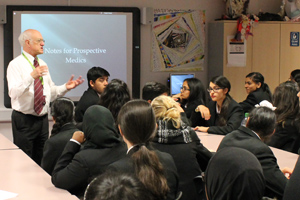 The talk was very inspirational and guided a variety of students from year 10,11 and 12. It showed the different opportunities and ways to stand out and make your university application unique. I learnt a lot of new things as well, for example the range of subjects offered, including viticulture which was a degree in wine making. It showed us how there can be different roots to success and gaining a degree at a top university."
Nader Choudhry - Year 10
"The Russell Group talk was motivational and gave us an insight into the requirements for entrance to some of the top universities. We were given guidance on what to include on applications as well as the importance of work experience and extra-curricular activities."
Saina Kanwar - Year 12
Hywel Evans, Post-16 Learning Co-ordinator and organiser of the events, said "It is really important that we provide our students with the best opportunities in order to assist them in developing their knowledge of the Medical field and also in making successful university applications in the future. Peter's incredible experience in assisting students to make successful applications to Medical Schools and Russell Group universities is invaluable and I know our students were able to take a lot of advice and guidance out of this talk. We are very fortunate to have someone as experienced as Peter working with our students."