Remembrance Day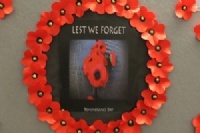 "Gone but not Forgotten" ... Heston remembers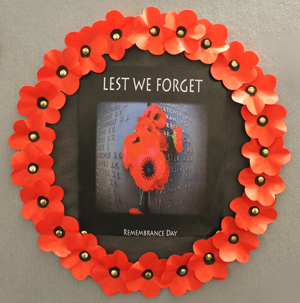 On the centenary of the First World War, Heston Community School observed the two minute silence at 11am. There have been a number of school assemblies devoted to the First World War as the School reflects on the loss of life and bravery of those involved in this conflict a hundred years ago.
After the two minute silence one Year 8 class suspended their usual History lesson on the Tudors to learn about the significance of the Day and Millie (pictured below) reflected on the War and summed up the thoughts she and other Year 8 students shared: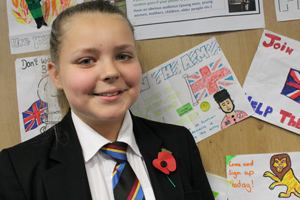 "Poppy day is a very special day. It is to remember those who fought and sacrificed their lives, both in World War One and many wars since. When the First World War came to an end on the 11th day of the 11th month at the 11th hour in 1918, guns fell silent. In 1919 the government agreed to hold a two minute silence on this day, and we have kept the tradition ever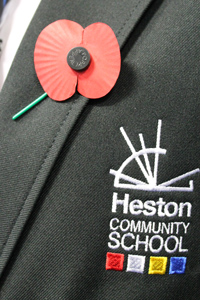 since, because it is a way to remember the dead and show respect to each and every soldier and their grieving families.
During the two minute silence today, I was thinking about what our lives would be like if the war was happening today. I also thought about losing my family – my cousin is 22 and he would have had to fight at such a young age. Some of my classmates were thinking about making sure they would visit the war memorial on Heston Road on their way home today.
It is important for teenagers my age to remember those who died because they risked their lives just so that in the future our lives can be how they are now. Without their courage and brave actions, our lives would be very different. We have a lot to thank them for, and holding a two minute silence is the least we can do."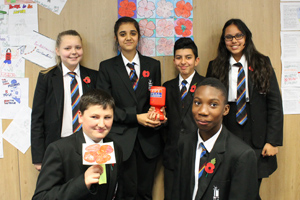 Several displays around the school feature Remembrance and War including the History and English departments' trip to the Battlefields in July and poems written by Heston students that are featured in the War of Words poetry book.
The soldiers who lost their lives in the First World War and subsequent wars and conflicts were remembered on this important day and are certainly "not forgotten" … as Millie says "we have a lot to thank them for."