National Poetry Day – 05 October 2023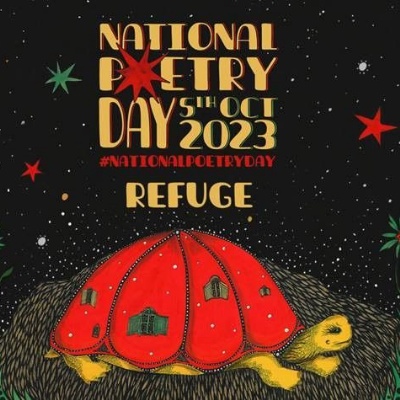 National Poetry Day took place on 05 October and helped us explore relevant topics related to 'refuge' and the diverse beliefs related to this. An amazing example of a beautiful poem that explores these themes is Roger Robinson's 'A Portable Paradise'.
This literature-based event was open to all year groups from Year 7 all the way to Year 13 and even extended to the teachers, which created an inspiring learning environment for us. We participated in creating beautiful short pieces of poetry about what refuge means to us, not only what home is but also how it feels to be safe. Ms Currie read out her favourite poem and Mrs Kyriacou displayed many poems in the LRC.
Honestly, this was a wonderful experience for students and staff to analyse and to raise awareness of countries that are not as fortunate as us to be safe with no looming threats of war or civil conflicts and to explore the wider theme of refuge through diverse poetry.
David Tamba, 11Y
A Portable Paradise by Roger Robinson
And if I speak of Paradise,
then I'm speaking of my grandmother
who told me to carry it always
on my person, concealed, so
no one else would know but me.
That way they can't steal it, she'd say.
And if life puts you under pressure,
trace its ridges in your pocket,
smell its piney scent on your handkerchief,
hum its anthem under your breath.
And if your stresses are sustained and daily,
get yourself to an empty room – be it hotel,
hostel or hovel – find a lamp
and empty your paradise onto a desk:
your white sands, green hills and fresh fish.
Shine the lamp on it like the fresh hope
of morning, and keep staring at it till you sleep.