Musical Theatre Show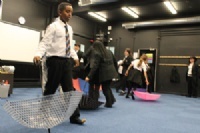 Students perform hits from West End Musicals and their own drama

Oliver, Singin' in the Rain, Grease, Wicked, You're a Good Man Charlie Brown and Matilda were the musicals that provided the inspiration for students who entertained their parents, staff and friends at the Musical Theatre Show.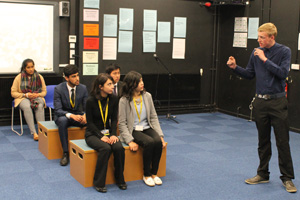 Sam Cooke's A Change is Gonna Come was the musical inspiration for a thought provoking piece created and performed by Sixth Form Drama students. The drama revolved around Rosa Parks' experience from the 1950s in the USA and became an important event in the history of the Civil Rights Movement championed by Martin Luther King.

Individual and group performances captured the magic of the original musicals – none more so than the Drama Club's performance of Singin in the Rain which was introduced with footage of Gene Kelly's memorable routine in the pouring rain.
Ms Clair Jones, Head of Drama, commenting on the show, said: "After many weeks of rehearsals
it was fantastic to see students from the majority of our year groups take part in the Musical Theatre Event. It was also lovely to see such talent from our new Year 7 students. There was a range of performances from songs, dance routines, a monologue and an A Level Drama piece inspired by a piece of music. This successful show also gave an opportunity for parents and carers to a have a go at singing themselves! Much fun was had by all."

The final act was Consider Yourself from Oliver performed by Justine, Maya and Caitlin who were then joined by all the performers and, with some coaxing, the audience for the finale. Ms Fern Clark, Music Teacher, was impressed: "It was lovely to see the parents singing and getting into the spirit of things!"
Well done to all the performers (listed below) on a great show!
Roop Sund 7G - Naughty from the musical Matilda
Safia Canbakis 7W - Monologue from You're a Good Man Charlie Brown
The Drama Club - Singin in the Rain
Daniel Hakim 9R, Jasleen Guru 7P, Jemma Lawton 8O, Micah Akinlagun 7P, Percy Manthey 7P, Bailey Ralph 7P, Taran Gill 7P, Dimitar Kasavetov 7R, Pijus Bruzas 9W, Ahmed Noah 7Y, Safia Canbakis 7W, Kahenat Khan 7W, Gurkirat Cheema 11P
Rosa Parks Performance – Sixth Form
Penny Fordred, Daniel Bremner, Aman Singh, Zoheb Khan, Anup Rai, Aman Singh
Aisha Abdrahman 7B & Iman Msabaa 7G – We Go Together from Grease
Anisha Dhariwal 11P - I'm not that Girl from Wicked
Justine Rudzone 7O, Maya Bathia 7G & Caitlan Marshall 7G – Consider Yourself from Oliver