GCSE Results 2023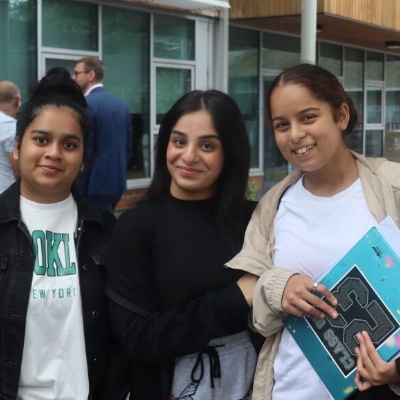 Congratulations to all our students collecting their GCSE examination results today. We are delighted that so many of them will be returning to our 'Outstanding' Sixth Form.
Headteacher, Ranjit Berdesha, commented: "I am extremely proud of the hard work and commitment, from both our students and staff, especially considering the challenges experienced during and after the pandemic."
Particular congratulations go to Alisha Rizwan who achieved eight Grade 9s.
'This journey could not have been possible without the many people who have supported me. I would like to thank my parents and all of my teachers. I couldn't have done it without you. I couldn't ever have dreamed of getting these grades. On to the next chapter!' Alisha 11G
'First of all, I would like to thank Heston and all my teachers for helping me and the great amount of effort put into teaching me. Overall there were a myriad of emotions yet nonetheless I was successful and thankful. I am very grateful to belong to this spectacular school. Thank you very much.' Sehraj 11B