UWL Outreach Programme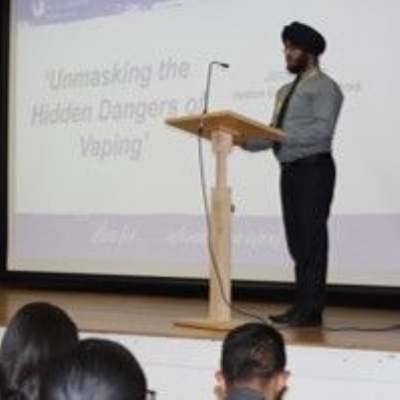 As part of our partnership work with external agencies, our Post 16 students had the opportunity to work with UWL, and present on topics salient to them. I am very proud of the myriad of skills our students developed through this three-month process. Students developed their ability to work in teams and use their resilience to reflectively edit their speeches. Some of our students went through their personal journeys of overcoming stage fright and presenting to over seventy of their peers and teachers. The end outcome was carefully constructed sentences and polished speeches, which allowed us all to reflect on such important issues such as the impact of social media on mental health and the importance of mindfulness.
Mrs R Kyriacou [Literacy Coordinator]
The University of West London [UWL] gave us the brilliant opportunity to speak about issues we believed to be very important. My topic was mental health and well-being and others chose topics such as knife crime and the perils of vaping. UWL helped us throughout the process with weekly workshops giving us advice on creating effective speeches, rhetoric and our public speaking skills. One example was when practising my speech, they had told me to speak slower to be able to extend the speech and for clarity. This experience has really helped bolster my confidence in writing and public speaking.
Iman Zain Rusly [12G]
Thanks to Ms Kyriacou for this opportunity and I'm so glad that I stayed with it. It shows you how important it is to stick with it even when it feels hard.
Sukhdeep Sidana [12A]
Attending the UWL event yesterday was incredibly informative regarding not only advice about future career paths, but key skills needed for public speaking. The students' speech topics ranged from important topical matters such as: mental health, the cost of living crisis and the negative impacts of social media on the youth. The speeches were very well delivered with confidence and raised the audience's awareness of the issues society is currently facing. The event was particularly engaging as it had encouraged students to participate in discussing important questions such as whether struggling with mental health is an individual issue or whether it is improved my reaching out. Members from UWL had also detailed important information we needed to know when moving on to university. This information had included tips on writing competitive personal statements, and the different options regarding the next steps after sixth form. Overall, the UWL event was inspiring for us as students to the wide variety of options we have available to us after Sixth Form.
Chloe Achkar [12E] and Priyal Bharatkumar [12E]