Personal Training At Heston ​​​​​​​​​​​​​​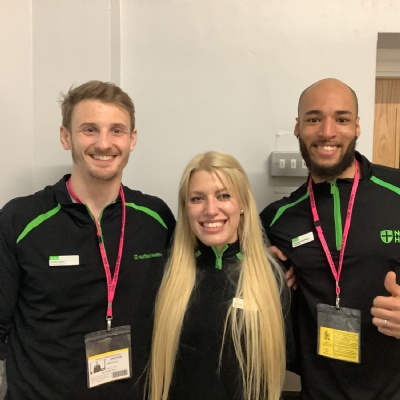 Heston Community School feels extremely grateful to Nuffield Health this term. Every Monday after school, 3 or 4 Nuffield Health Personal Trainers come and work on fitness with some of our Year 9 and 11 students.
Students take part in some individual fitness activities and some team-building competitions.
They all feel invigorated by the sessions and have amazed themselves by adapting to new challenges. "It is exhausting, but definitely benefits the brain as well as the body, so I think it is helpful it in the run-up to the exams." says Kilian V, Year 11
"I have really pushed myself". His fellow Year 11 Caleb says, "They have given us a really good workout that includes strength, stamina and speed." Logan M, Year 11
"It was difficult but fun." Kiran G, Year 11and her friend Taran B, Year 11, says, "I feel de-stressed and ready to revise!"
Many of the Year 11s said they would now aim to try some of the exercises at home as part of their own self-care.
Bettina Keki, one of the Personal Trainers, explains "We hope to also offer some sessions during half-term and the Summer, so students can maintain their fitness."
As a school, we want every student to benefit from taking part in Enrichment activities. Enrichment activities are any kind of club or experience like a trip which add value to a student's school experience, skills, talents, knowledge or well-being. We look forward to continuing our link with Nuffield Health and hope to have news about holiday sessions soon so that students can really grow in confidence and strength.