Spring Concert at Heston!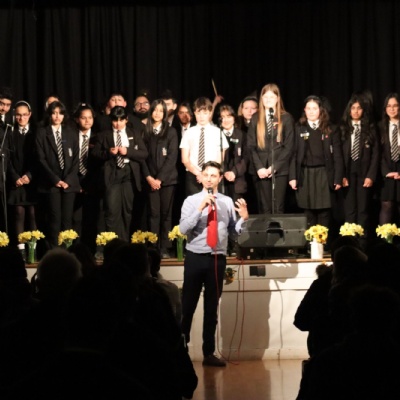 Heston Community School celebrated and showcased the strengths of our wonderful musicians in a Spring Concert on Tuesday, 21 March.
The vocalists and instrumentalists have dedicated enormous time and energy to preparing this show and it looked set to uplift the audience!
Matilda [9P] said, "It is fun meeting new people as part of the choir. We are like a community inside the wider school community."
Toby [9Y] added, "There is real variety in this concert. We have all been working on the visual aspects of our performance and the choir made quite a different entrance at the start of the show. We also had a song sung in Tagalog by a student with Filipino heritage, which was exciting."
Harman [9W] said, "We were trying to surprise the audience. We wanted the songs to be fun and high energy."
The audience were treated to a real range of genres at the concert, from the up-tempo pop of Rick Astley to the rebellious rock of Pink Floyd and the sublime blues-jazz of Nina Simone.
There were solo performances, two school bands, individual instrumentalists and of course the choir!
This amazing event has taken tremendous amounts of dedication, confidence and team-work from the students, our Head of Music, Mr Loseto and our Graduate Music Assistant, Mr Andriulo.