Somerville College Roadshow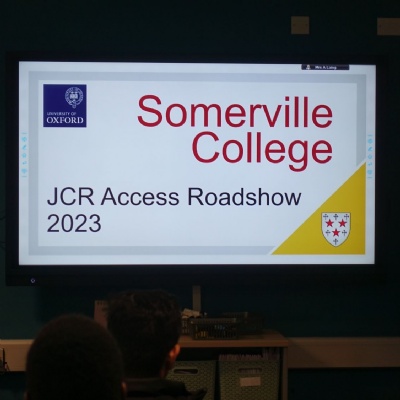 On Monday, 13 March we had two students who are currently studying at Somerville College, University of Oxford, talk to some students from Year 9-12. They gave an insight into studying at the University, as well as information on admissions. Students had the opportunity to learn more about how best to prepare for university and how to access further support in the future.
Feedback
"Having aspirations of attending the University of Oxford, the Somerville Access Roadshow immediately piqued my interest. Going in, I hadn't heard of Somerville, but the speakers gave a brief overview of their college's history, the other colleges, and the entire university, which was very engaging. What I valued most from the talk was their experiences with the admissions process. Hearing how they [the speakers] had prepared for their interviews and written their statements made the process feel less frightening and more of a possibility. Overall, it was a fascinating insight into life at the University of Oxford that will be invaluable to all potential applicants."
Moaiad Adam [12H]
The Somerville College Roadshow was a fantastic opportunity for us to understand the Oxford University experience; we learnt about admissions, the variety of colleges and aspects of university life. We were given information about the Oxford application and interview process, and how it may differ from other universities and colleges. It was so interesting to receive first-hand experiences from Oxford students, who also offered advice about UCAS applications for Year 12's, and even revision strategies and the importance of being passionate about subjects for younger years. Overall, it was an invaluable experience and I gained lots of knowledge from it!
Jessica Badhan [12A]