Year 10 'Jack Petchey Speak Out Challenge' Regional Final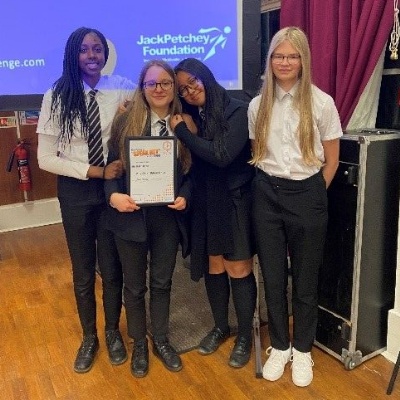 At our school final in February 2023, Angelina Tihhomirova [10O] was selected as Heston's representative in the regional final of the 'Jack Petchey Speak Out Challenge', a public speaking competition in which entrants must speak without notes for between 1.5 and 3 minutes on a topic of their choice.
Our judges, Ms Hart and Ms Currie, also highly commended Subhan Sohail [10P] and Thameera Ladva [10W], as well as recognising the courage, passion and preparation of all of our finalists.
At the regional final at Brentford School for Girls on Tuesday, 28 February, Angelina powerfully delivered her speech about the limitations of our current education, with real flair and confidence.
Whilst the competition was very strong, Angelina exemplified our values of ambition and resilience, and we are so proud of her.
Angelina says: "During this event, I was very excited to hear other people's speeches and to express my own. I think that the Jack Petchey Speak Out Challenge has helped me to become more confident talking in front of big groups of people. I would definitely recommend other students to take advantage of this opportunity as you can greatly improve your communication skills and boost your confidence!"