Cultural Fusion 2022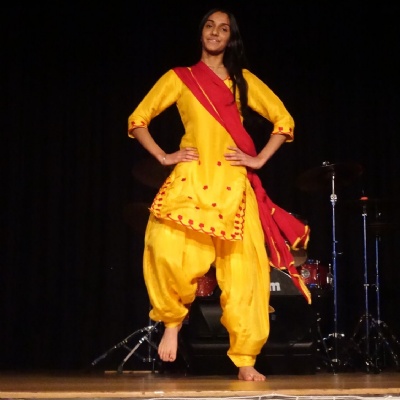 The Cultural Fusion show was an amazing experience; I got to perform with my band and show off my love of music, which I never imagined I'd do during my time at Heston. The year 12 Senior Team needs to be congratulated for putting this together! It was a beautiful evening with singing, dancing and so much beautiful music from playing the piano to heavy metal. It was a great evening.
Rhys Fernandes - Heston V Band [13C]
Cultural Fusion has been a long term tradition of Heston Community School as it allows us to celebrate the cultural diversity amongst all the students here at Heston through unique ways such as singing, dancing or playing traditional instruments. The Senior Team played an integral role in organising the show which allowed us all to take on leadership roles. We had begun with organising advertising for the show by visiting form rooms, speaking in assemblies and creating posters for Cultural Fusion to raise awareness about the event. We then collated a group of students ranging from Year 7 - Year 13 who auditioned and displayed their own incredibly talented performances.
From these auditions a shortlist was compiled comprising the students who will be performing during the event. The Senior Team had organised rehearsal dates in which we all had to take on different roles that would help build the final show including music and lighting coordinators, backstage directors, advertising and selling leads etc. After rigorous rehearsals, the event was a major success with many students and parents in attendance, with over £250 raised for our local community charity from ticket sales. The overwhelming majority of students left positive feedback stating that the show was entertaining and incredibly fun to watch. The Senior Team look forward to continuing the tradition of Cultural Fusion for next year!
Cloe Achkar - Head Girl [12E]