Hestonian Heroes- Non-teaching Staff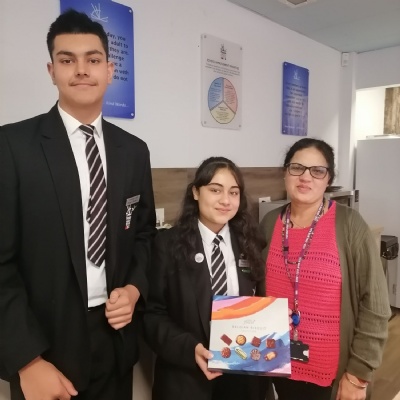 At the end of last term, tutor groups from Year 7-11 voted for non-teaching staff teams who show the Hestonian Value of Resilience.
Students learnt about the jobs done by the Cleaning Team, The Kitchen Staff, The Site Team, Finance, The Main Office and Welfare. They were quite surprised at how hard all these staff work, and were especially impressed by the time schedule the cleaning team have to stick to. The overall winners were the Cleaning Team.
Heston Student Council Reps Jassia Kwokova and Bob Ryatt were very happy to surprise Mrs Pravena Darji, who leads the Cleaning Team, with a thank you gift and card.
We want to say thank you to Mrs Darji and her team for keeping the school clean for us every day.
We think you are all true Hestonian Heroes!!
We hope students will make an improved effort to look after the site.
Thank you for making our space clean, safe and comfortable!
We really appreciate what you do for all of us every morning, and every evening.
Mancy Dutt [10P] and Jassia Kwokova [9Y]