Where is Anne Frank? Film Trip and Review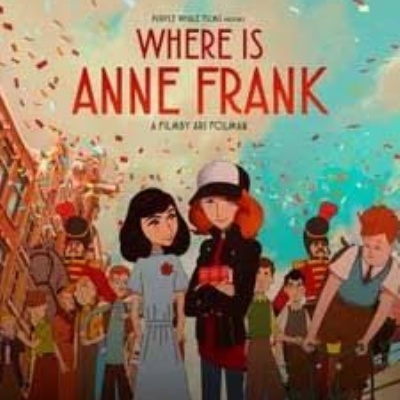 On Thursday, 17 November, 45 Year 8 and Year 9 students had the opportunity to watch 'Where is Anne Frank?' at Vue, Shepherd's Bush as part of the IntoFilm festival, which aims to enrich primary and secondary education through film and documentaries. This film was chosen as it complemented units of study in English across Year 8 and Year 9, including the novel 'The Boy in Striped Pyjamas' and 'The Diary of Anne Frank'.
Below is a student account of the trip and review of the film by Aiza Mehmood, who has very successfully reviewed the film through the eyes of a film critic!
Overview of trip
Firstly, the teachers all helped us and did an amazing job at keeping us safe, and making sure everyone had a really fun time. We all travelled there by coach and when we arrived, we were given the opportunity to purchase food to eat during the screening. The Vue staff were really considerate and gave all of us a free movie voucher to redeem at any Vue in the next month.
Overall, it was a fantastic and fun learning experience. The teachers were really helpful throughout this process and we were so thankful that we had this chance.
Film review
'Where is Anne Frank?' is a 2021 animated film directed by Israeli director Ari Folman. The film consists of a strong cast: Emily Carey, Ruby Stokes and Michael Maloney. The film shifts between Nazi Germany in the 1940s and modern-day Amsterdam, and revolves around Kitty, the imaginary friend to whom Anne Frank wrote her famous diary. This diary comes to life in the Anne Frank house in Amsterdam. Believing Anne Frank is alive, Kitty is on a mission to find her. We follow Kitty's journey to seek her precious friend.
The story is presented in a very clear and concise manner. It grips you into the world of Anne Frank. The flashback events of Frank Otto's life are done excellently and immensely captures the horror of the Holocaust, especially the discrimination and prejudice of the Jewish population [anti-Semitism]. The message in this film is that all people have the right to live in freedom. Just because people may be a different skin colour, race or religion does not mean they should be discriminated in society.
Overall, this movie is filled with a well-conveyed message suitable for all ages. The eye-catching 2D characters add the final touch the film needed. It enlightens the audience to the plight of Jewish people and teaches children to treat everyone with respect and kindness. I would recommend this movie to people who are interested in the history of Anne Frank and would like to learn more about her life.
It is truly a must-see movie!
Aiza Mehmood – [9P]