War of Words Poetry Competition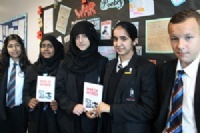 Heston students' poems in print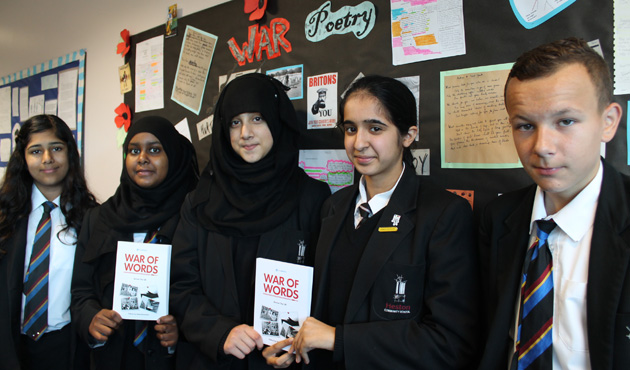 In May, Heston students had the opportunity to enter a Young Writers' competition called 'War of Words'. The brief was to write a poem in any style on the theme of conflict. In English lessons and literacy tutor time activities, students explored their own personal understandings of "conflict" and creatively expressed their own experiences and opinions.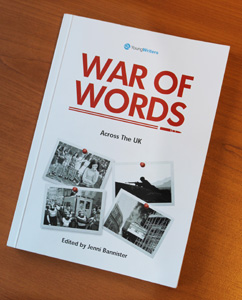 After a huge number of entries were submitted, 68 poems by Heston students were selected for publication in the final 'War of Words' anthology (pictured right). Congratulations to all of our poets.
Here are some examples of the fantastic poems produced by students:
An Angel Departs by Manaal Omar and Mahgul Khan 9 Blue
All is gone, nothing left
Life's committed another theft
It took his life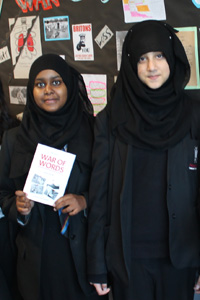 It took his pride
There's nothing left on his side
All I see is your grave
You were once handsome, bold and brave
I can feel your existence; warm and strong
But I'm pretty sure it won't last long
I last heard your heart race
Before death fell upon its place
I smell the beauty of the roses on your grave
You once used to be God's obedient slave
But now he's taken you from this world
And everything's suddenly become so cold
Now I touch the unforgiving stone
That buried you, in the shape of a dome
I remember the last gun shot
That hit you in the heart spot
It took your soul away from me
All I rewind is the memories
You now belong in God's hand
But don't worry, that's where I'll soon stand.


A Conflicting Poem on the Conflict of the World by Navjot Kahlon 10 Orange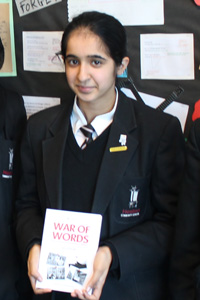 The world is pathetic
And I refuse to believe that
The world will change for good.
I know that soon
This world will become the equivalent of hell
And we'll never believe that
"The world is the treasure of God."
It's all blinding lies
Conflict, war and deceit,
is the path you must take
Love, care and affection,
is utterly ludicrous.
Injustice,
is virally contaminating our souls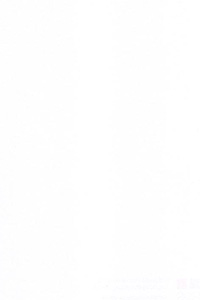 Justice,
is a complete waste of time.
Pessimism,
is a trend we're all following.
Positivity,
is nothing compared to the conflict of our world,
but if we try, if we really try, our human power,
can do something,
good or bad
(Now read this poem from the bottom to the top).


The Soldiers by Kyle Gurney 9 Green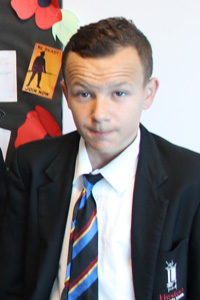 By the trenches
I hold my breath,
Waiting, waiting,
for my death.
The poppies blow
To and fro
In Flanders Fields
Hear the gunshots
And the bombs
Is this where soldiers
Do belong?
The poppies blow
To and fro
In Flanders Fields
Now I lie
In the grass
Waiting for
The war to pass
The poppies blow
To and fro
In Flanders Fields.
A Death Wish by Sonia Randhawa 9 Green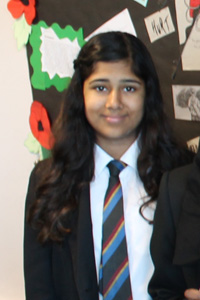 I close my eyes tight,
and think of a wish
In this moment of pleasure,
And pure bliss
Three, two, one
I blow out the flames
My wish will come true,
despite those countless claims.
The letter in front of me
I reluctantly look up,
I won't see you for a while
He looks at me worryingly
Yet I stifle a smile
I run after my hope
Bang, I'm flying through the air
I look up distraught
He is gone, no longer here
I cough and I sputter
Tears escaping my eyes
Similar to his father in his uniform
They thought he'd be ok too, they lied
I sit in the cold room
Bangs and screams above me
I hug my legs and drop my head
As all feelings slip away slowly
I am yet to have my spark re-ignited,
And jump with hope as a letter shoots through the door
Is it the letter I dread oh so much
And his thoughts silenced for evermore
That's all in the past
Here I am now, huddled by the door
Another telegram staring back at me
Sitting innocently on the floor
I know what it reads
He has found eternal peace
My eyes empty
My mouth dry
Those years that passed when I did not cry
A sharp pain sears through my chest
And I fall to the ground
I know at this moment
My heart getting slower
My family will be whole now
As I take my last breath
I close my eyes in victory
Knowing that my spark was re-ignited
my love rekindled, replanted
I know now that my wish has been granted.