More Able Information Evening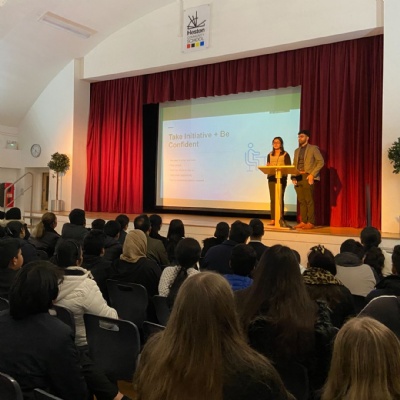 On Thursday, 29 September, parents and carers of high attaining pupils were invited to an evening of inspiration, information and advice on how to make sure their child thrives at Heston.
Ex-Hestonians Jasleen Nagi and Dean Chugtai, both second-year Imperial College medical students, delivered an inspirational keynote on how to make the most of the time at Heston. Heston was also proud to welcome back Talha Javed, a second-year engineering student at Cambridge, and Puneet Bansal, a first-year Economics and Management student at Bristol. They all delivered specialised sessions on how to make competitive applications to the most competitive universities.
I found the More Able Information evening extremely informative and helpful, and it gave students the unique opportunity to speak to previous Heston students at Russell Group universities. It was extremely in-depth and covered and expansive range of topics such as writing personal statements, enrichment activities, entrance exams and study techniques.
Priyal Bharatkumar, another Year 12 student said "The evening really helped and inspired me regard the future career paths and opportunities that are available. For example, there was a talk from an engineering student studying the University of Cambridge which was especially helpful. The insight into the application process and how to get work experience was and will be extremely valuable!".
Suchi Nair, in Year 8 took on board "the numerous revision strategies and techniques" in the KS3 session and similarly found the stories of other students who managed to get top grades inspiring - so much so that she added "They inspired me to put more effort into my studies and revision"!
Chloe Achkar [12E]