Open Evening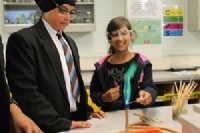 Parents and children from 33 schools visit Heston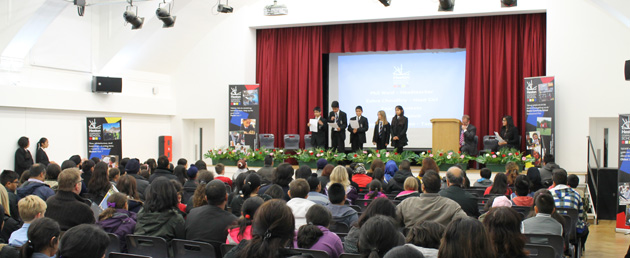 Parents and children from 33 different primary or junior schools came along to Heston's Open Evening on Tuesday 7th October.
The visitors had an opportunity to tour the school with their student guide, hear the Headteacher, Head Girl and Year 7 students talk about life at Heston as well as talk to teachers and students.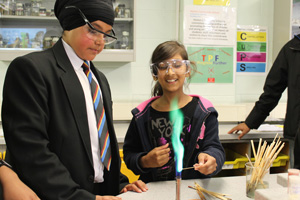 The tour took visitors to all departments and they were able to see the work that goes on in each subject as well as taking part in a variety of "hands-on" activities. These activities included flame tests and heart dissection in Science, playing the drums in Music, creating models in Art, running an obstacle course in the Sports Hall, solving problems in Mathematics and discovering just how steady your hand was in Design and Technology.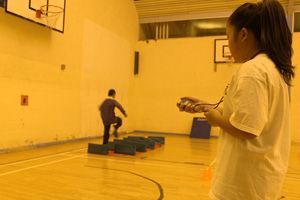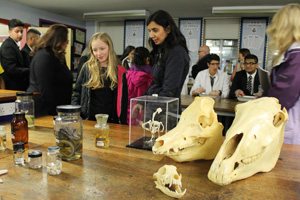 A packed Assembly Hall was welcomed by Head Girl Zahra Choudhry who encouraged the potential students to make sure they took advantage of all Heston had to offer and explained how much she has enjoyed her seven years here in a community that was so friendly and supportive.
Five Year 7 students, Adam, Arunvir, Gagendeep, Melissa and Tanisha, then outlined their views on the school after being here for just five weeks. They explained how they were made to feel very welcome by teachers and older students and how they managed to find their way around this "humongous but not too scary" school! It was clear from their words that they had settled into their new school very well.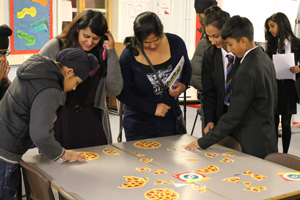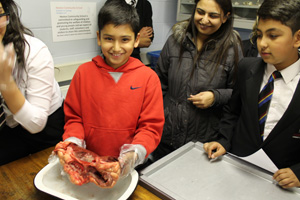 Headteacher Phil Ward thanked the students and told the audience just what a special place Heston is with a real passion for learning and the ability to change students' lives.
Mr Ward finished his presentation by saying: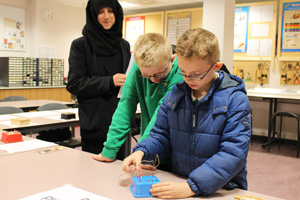 "All of us are very proud of belonging to this exceptional school, so what are our magic ingredients?

100% Fun - 100% Enjoyment -
100% Care of the individual - 100% Teamwork -
100% Determination to succeed -
100% Aspiration
We strive for excellence - your excellence to let you be all that you can be. There is a saying, 'If opportunity doesn't knock, build a door.' Start building that door which will give you access to Heston Community School, a school of which I am justifiably proud."