SPORTS NEWS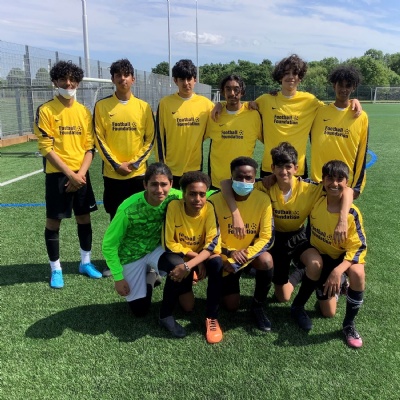 Athletics Achievements
Heston athletes recently attended Hounslow's Borough Athletics Competition. We took part in many events against other schools in the borough. I represented the school in the Year 9 Boys' Triple Jump.
After my second jump, I was in 3rd place. I needed around 9.75 m to beat my opponents. I was nervous at first, but I was determined and gave my all for the last jump.
Unexpectedly, I jumped exactly 10m and won the Silver medal. It was a great feeling!
Abdurahman Vohra, 9 Orange
Rounders Victory!
This month, our team had to show a lot of determination and resilience when we played Rounders against Brentford School for Girls.
In the first half, we were down by two points. But we didn't give up. We persevered and worked on our weaknesses. Eventually, we won with three more points. Our team had a score of 22 and a half, whereas Brentford scored 19.
We all felt extremely proud of ourselves, and we are optimistic about what the future holds for our team!
Rihanna Angus, 9W
Football Success At Heston!
Heston's Year 9 Football Team recently attended a football tournament at Springwest Academy where we faced Springwest's own team in the semi-final.
Throughout the game, our team displayed resilience and a desire to win. We conceded a goal early on, but it was a back and forth game where we never gave up. We soon equalised and by the end we had won 3-2.
It was a hard-fought victory but also an amazing experience! Winning that game meant we made it to the final against The Green School. We ended up losing that final but we showed heart and never gave up. We were all very proud to represent the school!
Sahib Bains, 9 Blue
On Monday 23 May, Heston's Year 7 Football Team attended the borough semi-final. We had a very tough opponent: Isleworth & Syon.
During the first half, there were no goals but moments into the second half Isleworth & Syon scored due to a terrific loss of the ball from a throw in. The game ended 1-nil.
This meant we then had a match that would establish 3rd and 4th place in the borough for the year. We were up against heathlands. The first half saw us losing 1-nil. However, motivated as ever, Kamil scored from the halfway line. It went under the goalkeeper.
Next, due to a penalty, Heathlands were in the lead again. But, quicker than ever, Fahim went on a one-one-one with the keeper, and he scored! We were now equal with five minutes to go!
It ended. So we went to five minutes of "golden goal" in which the first team to score wins. However, no one scored, so it went on to penalties.
Our first penalty taker, Aadi, missed but luckily so did the first Heathlands' player too. Next it was my turn and I managed to calmly score! Even better, our goalkeeper, Daksh, made a brilliant save to put us ahead. Then Maison scored! Daksha saved. Sabri tried but missed. Heathlands scored. Now it was up to Fahim, he had our victory in his hands. He stepped up and scored!! We took third place!
Michal Oterski, 7G