Well-being Week ​​​​​​​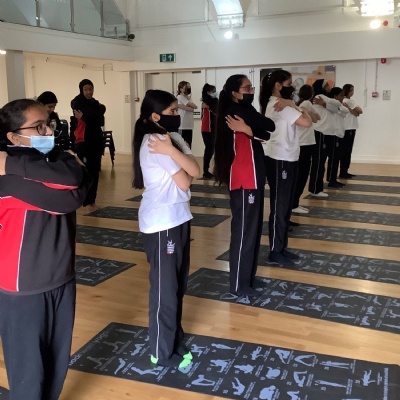 In late April, Heston Community School had a 'Well-being Week' in which all students from years 7-11 got to try new experiences. Every student tried a yoga session with a teacher from Livekarma, and also got to try a karate session with a teacher from Goju Kai.
The responses we received were incredibly positive, with 93% of survey respondents saying they enjoyed trying a new activity and 98.9% saying that they felt better after the sessions.
Current UK research shows that student participation in clubs improves mental and physical health, also helping to develop qualities such as resilience and ambition.There are also strong links between club participation and academic attainment.
Personally, I really enjoyed trying the yoga, as I felt very relaxed after the session, this is something I would definitely like to do again. The karate session was also fascinating as I learnt new techniques and skills, whilst having fun with my classmates! I think that these new experiences benefited our physical skills, as well as our mental well-being.
Below are some quotes from other students who took part in the sessions:
"Yoga helped me, I felt a lot better after it." - Bilal Shah, 7Y
"Yoga helps us to let go of our stress and anxiety." - Jasmita Iragam 8R
"They really helped me increase my knowledge of relaxation and self-defence!" - Louis De Vera, 8Y
"I really enjoyed karate." Habib Faqi, 9Y
"Karate was amazing!" Sehraj Chawla, 10B
"Great new experiences!" Maram Bouaroudj, 110
By Jassia Kwokova 8Y