Heston Student Council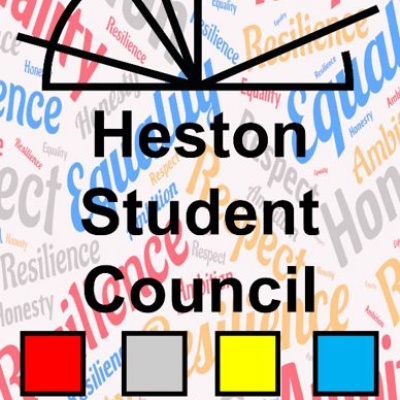 Ensuring all students feel comfortable and part of our school community are the key aims of Heston Student Council.
Student opinions and voices are fed back in meetings with Senior Leaders so that everyone shares a vision of what we want our school to be.
When Head Students and Student Reps were first recruited, we decided to conduct a survey with students about what changes they would like to see.
This led us to create a more positive environment by celebrating students who show the Hestonian Values of Respect, Ambition, Resilience, Honesty and Equality. Every two weeks, a student from each tutor group in Years 7-10 is nominated by their peers and staff as a Stand-out Student. Once the votes are collected, all of these nominees are celebrated by being entered into a draw for an Amazon gift card! Additionally, a handwritten certificate is also sent out to all nominees by myself and Maryam Hussian, our other Head Student.
Student Reps now attend weekly meetings to discuss important issues and communicate directly with Learning Co-ordinators. This allows us to contribute ideas of how to continue to improve our School. We plan to organise a massive Heston Friendship Survey in the Summer Term to gauge student expectations of friendship as Kindness is a value that we and Mr Berdesha intend to add to the School's Hestonian Values next year.
Lastly, to support student mental well-being, Sixth Form Senior Students have started the Confidentiality Clinic: this is a safe space where students can come to talk to other older students (members of the Senior Students Team) about academic or social concerns. We all know how much it helps for some people to just talk and get things of your chest to someone who understands – we've all been there. Behind the scenes, much more is being discussed and we will bring out more news to you soon.
Gurpreet Arora - Head Student [12G]