'The Heston Voice' Student Newsletter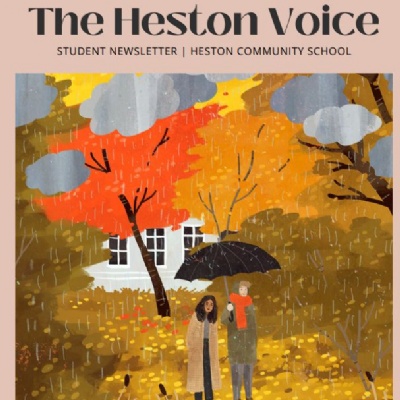 The first edition of our new student newsletter, 'The Heston Voice', has just been published to an excellent reception from students and staff. As Chief Editor and designer, Lidia Goonatilaka, along with Co-editor, Roshni Barrass, lead a team of Year 13 students and contributors from across the School.
Lidia describes 'The Heston Voice' as 'informing students on topics from the miraculous way the immune system fends off infection, to the history behind Black History Month. At its core, its aim is to engage students with a myriad of topics [particularly with things outside the classroom] to increase cultural capital, foster an appreciation of the arts, and encourage a fervour for learning. Ultimately, the team hope to connect to and solidify our School as a community, giving students their own 'Voice' and the opportunity to share the things they are passionate about.'
Reader, Jaya Dhillon [7B] commented, 'our School is one of a kind, it buzzes with life, not only in the playground or in the hallways but in the classes too, even maths - believe it or not! If you're having a bad day, I assure you, the frown that you came to school with will turn into a smile by the end of the day. This newsletter does the same: it brings the school together as one, regardless of heritage, background, or race. In Heston each child really matters.'
With book recommendations, interesting articles and beautiful art work, please enjoy Issue 1 below.