Surge Testing and Vaccinations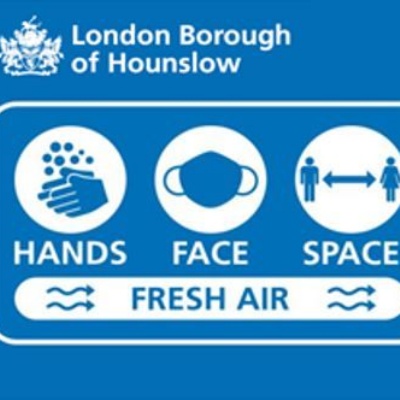 Step Up For Hounslow!
Surge testing and increased vaccination continues in Hounslow to help tackle a new COVID-19 variant of concern. We need everyone to play their part and to get PCR tested as soon as possible and to get vaccinated when they can. Here is some new information for you to share please.
Residents are stepping up to get PCR tested. 1,982 PCR tests were completed on Tuesday 25 May.
We are continuing to door-knock in the Hounslow West area of the borough today [staff are carrying appropriate I.D], delivering PCR tests and leaving letters with information and details of support for anyone who is not at home.
Today [Thursday 27 May], we're launching the first of several new 'Pop-up' vaccination clinics — please see table far below for more details.
Hounslow Council Leader, Cllr Steve Curran and Director of Public Health, Kelly O'Neill, have issued a joint statement this afternoon on clarification of Government Travel guidance. They said: "We are delighted for the sake of residents and businesses that the Government has clarified their travel guidance after calls from all eight areas designated for surge testing and vaccination, who recognised the issues and worked together to ensure common sense prevailed. Confusion caused by changes in the guidance last Friday brought great inconvenience, worry and concern to many Hounslow residents and businesses, and on top of this, it distracted Council staff and NHS colleagues from the delivery of the surge testing and vaccination programme which is our top priority. We encourage every resident in Hounslow and London to be tested and vaccinated as soon as possible. This is the only way we will beat the virus."
Our 'Step Up For Hounslow!' multi-channel Communications and Engagement activity is helping to spread the word. For example, images of the campaign have been featured on the BBC, in the Guardian as well as on ITV. We generated more than a million impressions of our content on Twitter, increasing our number of followers five-fold.
Surge Testing and Vaccinations activity will continue for approximately five weeks.
For more information, visit: www.hounslow.gov.uk/surge which we are updating regularly as details are confirmed.
Follow us at: LBofHounslow (Twitter) and London Borough of Hounslow (Facebook).
You can also keep in touch via our e-newsletter: sign up to our Covid-19 enewsletter
For now, please remember to follow the basics including 'Hands, Face, Space and Fresh Air'.
From Wednesday 26 May, here is where residents have been able to…
Get Vaccinated!
Book an appointment via www.nhs.uk or call 119:
Brentford Fountain Leisure Centre — 658 Chiswick High Road, Brentford TW8 0HJ — Open 08:00 – 20:00.
One of Hounslow's five community pharmacy sites www.hounslow.gov.uk/vaccine
Get PCR Tested!
Mobile PCR Testing Units:
Beavers Field Park, Hounslow TW4 7JF — Open 09:00 – 15:00
Tesco Hayes, Bulls Bridge (UB2 5LN) — Open 10:00 – 18:00
Local PCR Testing Sites:
Brabazon Road Sports Court, Hounslow, TW5 9LR — Open 08:00 – 20:00
Padstow Walk car park, Feltham, TW14 9XU — Open 08:00 – 20:00
Stamford Brook Car park, Chiswick W4 1NH — Open 08:00 – 20:00
Hounslow House, 7 Bath Road, Hounslow TW3 3EB — Open 08:00 – 16:00
We will also have a Community Engagement Team at:
Gurdwara Sri Guru Singh Sabha, Alice Way, Hounslow TW3 3UA