World War One Belgium trip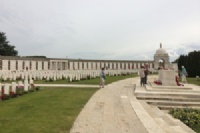 Read Nina and Habon's report on their "exceptional day"

On Tuesday the 8th July, a group of 25 Key Stage 3 students took part in a cross-curricular educational trip involving both the History and English departments: here is a report of the day from students Nina and Habon.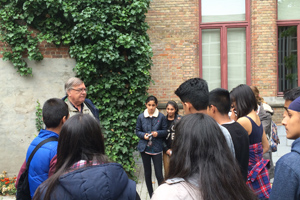 Our destination was the World War One battlefields of France and Belgium. We met promptly at 5:15am at the school gates, ready to embark on our journey to Belgium. Before arriving at the Euro Tunnel, we stopped in Maidstone to pick up our guide – Iain (pictured right). Shortly after, we reached the Euro Tunnel; this was our method of transport to France, which would then lead us across the border to Belgium and the battlefields.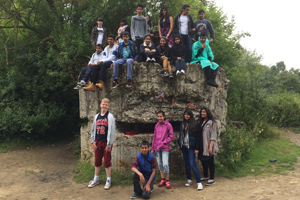 Throughout the course of the tour, we had the opportunity to visit all of the historically significant landmarks around the area of Ypres in connection to World War One. These landmarks included, the site of hundreds of soldiers who had been sentenced to death for deserting their posts, the trenches themselves, a memorial ground, Hill 60, Hill 62, the largest Commonwealth cemetery of any European war and finally, the Menin Gate. It was an immensely informative and engaging tour with a very knowledgeable guide to clearly explain the importance of each site that we visited.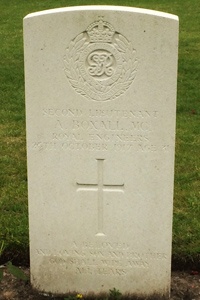 We enjoyed all of the aspects of the day – it was awe-inspiring. Our personal favourite moment of the day was when we witnessed the Last Post Ceremony, an incredibly moving and momentous event. The ceremony takes place at the Menin Gate every single day of the year at 8 o'clock sharp. It pays tribute to the millions of soldiers who fell fighting for their country but their bodies were unfortunately never found. Before this ceremony, we were given an opportunity to explore Ypres independently, resulting in the purchase of many souvenirs and of course, Belgium's world-renowned chocolate. We also stopped at 'Ypres Burger' who claim to have the 'best burgers in town'. It lived up to these high expectations as the food was delicious!
We highly recommend this trip; it is an experience that should definitely not be missed. It combines what we have previously learnt in both the English and History classrooms. In Year 7, we studied the book 'Private Peaceful' written by Michael Morpurgo and in History we gained knowledge on the life led by soldiers in World War One. This trip enabled us to put what we had learnt into practice and understand more about the reality of being a soldier. To conclude, we are both very pleased that we were able to take part in such an interactive, educational and fun trip. Listening to Iain talk about the different parts of a World War One soldier's life was incredibly eye-opening and it was an exceptional day.