Bank of England visit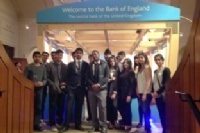 Sixth Form students prepare for the "Two Point Zero" Challenge
Sixth Form Economics students experienced City life when they visited the Bank of England. The Bank laid on a special presentation for Heston students so that they could gain a deeper understanding of the role of the bank and the Monetary Policy Committee. Students learnt about quantitative easing and the history of money.

Heston students are going to take part in the Bank of England's annual challenge in September. The Bank of England and The Times Interest Rate Challenge, known as Target Two Point Zero, gives teams of students aged 16-18 the chance to take on the role of the Bank of England's Monetary Policy Committee, assess economic conditions and the outlook for inflation and tell panels of judges what monetary policy they would set to achieve the Government's inflation target of 2.0%.
The aim of this early visit to the Bank was to help students understand the different influences on inflation and how interest rates can help to manipulate inflation. The visit was very insightful and inspired a number of the students to investigate Economics as an option for further study at University.