'The Orwell Youth Prize' celebration event at Pembroke College, Oxford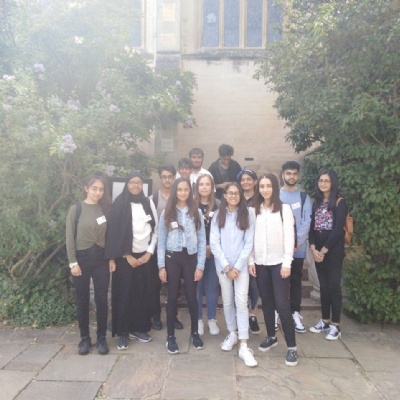 On Friday 5th July, Year 10 and 11 More Able students who entered 'The Orwell Youth Prize' attended the celebration event at Pembroke College, Oxford. Entrants had to craft a piece of political protest writing to comment on an injustice in society, in the spirit of George Orwell's aim to elevate political writing into an art form.
During the celebration day, students participated in four parallel seminars, each led by a celebrated writer: Max Daly (investigative journalist and author), Irenosen Okojie (author of the award-winning Butterfly Fish), Sarah K. Perry (author of Let Me Be Like Water) and Dee Jarrett-Macauley (writer, academic and broadcaster). Students explored the topic "Our education equips us for the future we want", culminating in a debate hosted by Rick Edwards. Safah Rahimi (10B) bravely led the debate for her team, speaking in Pembroke College's Pichette Auditorium in front of a large crowd.
Special congratulations go to two of our students, Lidia Goonatilaka and Dean Chughtai, who were both Highly Commended Junior Entries and were shortlisted to the final stage of the competition. Thank you to Mr Juriansz and Ms Ghatore for accompanying students to Oxford.