Sports Day ... records broken!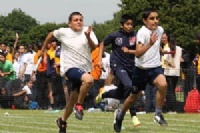 Great weather and great performances result in a perfect Sports Day!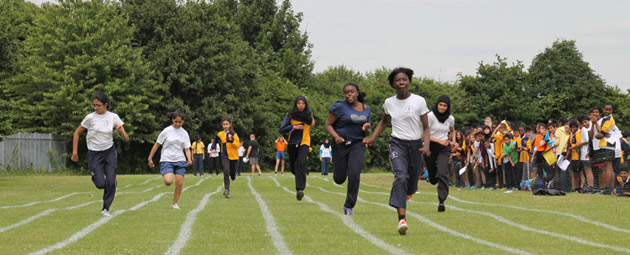 On Thursday 26 June, students from Years 7 to 10 took part in the annual Heston Sports Day. This year saw a range of events, including the traditional sprints and relays as well as some new events, such as tug of war and the 40m sprint. The addition of these new events gave students the opportunity to compete in more sports, helping to increase student participation and competition between our seven Houses.
Field events took place in PE lessons prior to the day where all students competed in javelin, discus, shot putt and long jump. These scores were then added to the track event scores to determine the Sports Day Champions ... Orange House!

More action shots from the day can be viewed on the Galleries page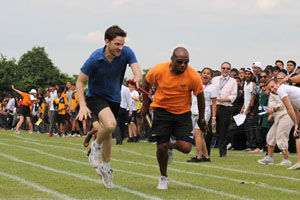 Mr Stuart Howkins, Assistant Curriculum Leader for PE and organiser of the day, said: "It was a really fun day and it was great to see the teachers showing their competitive side in the staff race! (as illustrated left in the dip for the line) The atmosphere was great and everyone enjoyed cheering for their House. Thank you to all of the staff and students who assisted with the organisation of the day and most importantly ... Congratulations to the all students who took part."
There were some notable performances that saw a number of school records broken:
Girls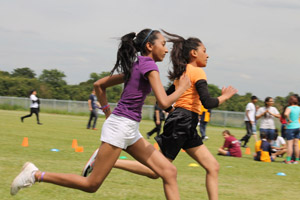 Year 7 200m - Jaileigh Gould - 34.81 sec
Year 8 200m Leena Vara 32.91 sec
Year 10 800m Samia Tassil 3 min 05 sec
Boys
Year 7 800m Yahya Ibrahim 2 min 43 sec
Year 9 4x100m Relay Purple House 53.89 sec
The overall result was: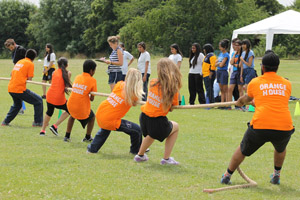 1st: Orange - 634 points
2nd: Purple - 560 points
3rd: Red - 556 points
4th: White - 537 points
5th: Blue - 529 points
6th: Yellow - 513 points
7th: Green - 492 points