Queen's Terminal books from HRA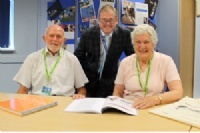 Heston Residents' Association donate books from Terminal 2 Opening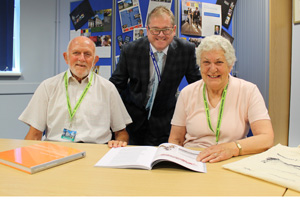 The Queen officially opened the new £2.5 billion Terminal 2 building at Heathrow recently in front of more than one thousand guests.
David and Vivian Blackett, Heston Residents' Association Chairman and Secretary, (pictured right with Headteacher Phil Ward) were among the guests as the Queen, accompanied by her husband, Prince Philp, opened the terminal dubbed the Queen's Terminal in her honour.
Mr and Mrs Blackett were presented with two books to mark the occasion which they have very generously donated to the School – one about the Architects involved in the project and one about the enormous sculpture "Slipstream" that is in the terminal.
"Heston Residents' Association are good friends of the School and we are very grateful for their donation of these excellent books – they are now in our Library for the benefit of the whole school community" said Mr Ward.