Author Marcus Alexander visits Year 7 and 8 boys for World Book Day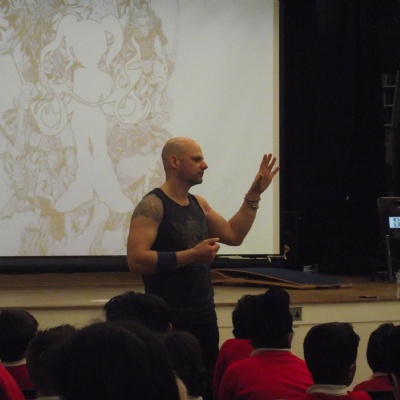 On Monday 4th March, Children's author Marcus Alexander visited Heston to talk to Year 7 and 8 boys about the travel and sporting interests which inspired him to write his extremely popular 'Keeper of the Realms' fantasy series.
During his talk, Marcus shared photos and videos of his exciting travel experiences and performed some demonstrations of his physical stunts and martial arts expertise.
Students were forthcoming with their questions – ranging from the insightful to the downright ridiculous – all of which Marcus answered with good humour!
In honour of World Book Day, which takes place on Thursday 7th March, Marcus explained how being an avid reader has shaped his life for the better: "I, Marcus Alexander, am a book nerd through and through!" he explained to the captivated audience which also included primary school students from Westbrook, Heston and Wolf Fields Primary Schools.
Thank you to Marcus for delighting the audience, and a big thank you to Ms Hurley and Ms Birk for organising the opportunity!