Chef Ryan's Bronze at Hotelympia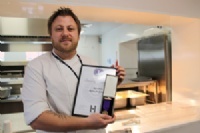 Heston's Head Chef wins Bronze in the Mystery Box Grand Prix.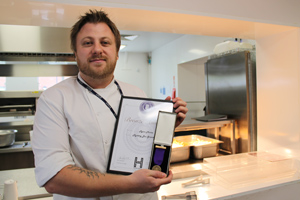 Congratulations to Heston's Head Chef, Ryan Moore, who was part of a Bronze Award winning, three man team that entered the Mystery Box Grand Prix at Hotelympia's International Salon Culinaire.
Ryan joined two colleagues from Wilson Jones Catering to compete in this prestigious event.
The competition saw the team devise a three course meal from a Mystery Box of ingredients.


Ryan's team created Black Forest Ham and rocket tortellini, veal loin, herb-crusted monkfish and apple crumble mille feuille as well as an impressive range of extras to go with each course. The judges enjoyed their food and they received a Bronze Award … beating, amongst others, the Turkish National Culinary team and Dubai's Grosvenor House Hotel.