Heston's Got Talent ... lots of it!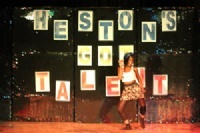 Congratulations to all the finalists, especially the winner Anisha


Heston's Got Talent was a great success and did illustrate that the title of the event is right … or could even be changed to Heston's Got lots and lots of Superb Talent.
The fifteen acts that entertained a packed Main Hall were all winners as they had progressed to the final after performing so well in auditions. All the acts are featured in a slide-show on the Galleries page.
Assistant Headteachers, Miss Margot Currie and Mr Adam Fletcher, had the unenviable task of selecting the top three acts on the night. In the end they had to choose four acts with third place being shared. The winners are pictured above with hosts Head Boy Aman and Head Girl Zahra.
Winner: Anisha Dhariwal (10P) who sang When I was your Man
Runner-up: Sofia Rahimi (11W) & Nancy Kukukhail who performed a traditional Afghan Dance
Joint 3rd place: Samvina Taylor (10O) with her vibrant African Dance
Joint 3rd place: Arjan Jandu (12F) on guitar & Inderpal Gupta (9Y) singing Ordinary People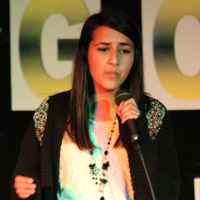 After being announced as the winner and receiving her prize and the HGT plaque Anisha (pictured left) said:

"I really enjoyed the show as it was so diverse and celebrated different cultures. I was surprised to win but the win has really boosted my confidence"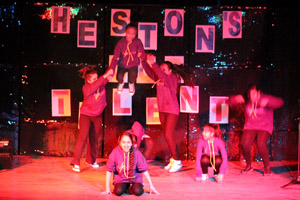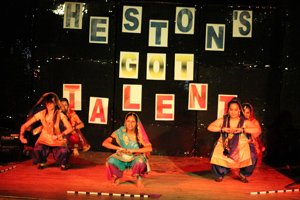 Ms Jones and Ms Clark, who put in a great deal of work organising the evening and auditions were thanked by Deputy Headteacher, Mr Mike O'Hagan who presented the prizes. This is what they had to say about Heston's Got Talent:
"Heston's Got Talent was a highly enjoyable event. There were performances from students in all year groups and the audience reflected this as well. It was also lovely to see our parents and governors in the audience too! The evening was a mixture of singing, dance, magic and the playing of live music including the guitar, keyboard and dhol drums. All of the performances were of a very high standard. It was great that Sixth Form students helped with the lighting, sound and ticket sales. I would like to thank our Head Boy Aman Ghatora and Head Girl Zahra Choudhry who were the hosts for the evening. They dealt with hosting the show with such professionalism." - Ms Clair Jones: Assistant Curriculum Leader and Head of Drama
"A night full of colour, talent and a happy audience. From the auditions we had about 35 acts and then whittled it down to 15. This year had a huge amount of talent." - Ms Fern Clark: Music Teacher