£3000 for Standing Together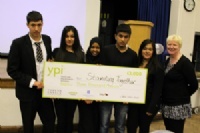 10 Orange's presentation wins the YPI Final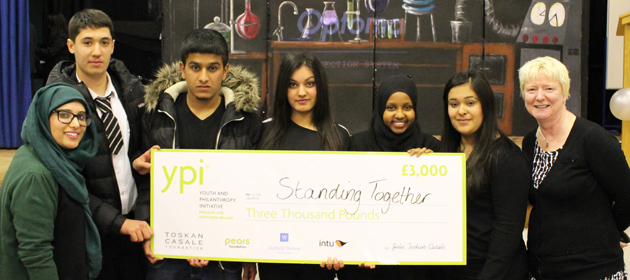 The YPI Finals were held in the Hall on 28 March and all the groups made life difficult for the judges who had to pick a winner - they decided 10 Orange put forward the best case for their charity, Standing Together. This charity work to promote a co-ordinated, multi-agency community response to domestic violence.
Sally Jackson (pictured above right with the winning team) from Standing Together was there to support the students and said: "Standing Together are delighted to be awarded £3,000 as a result of the brilliant work of Karishma and Ravina and their group. It was lovely to meet them when they came to find out more about our charity and I was so impressed with the presentation that they and their group put together; they are fantastic ambassadors for Heston. We will use the money locally to improve the response to domestic violence and thanks to this group - they have improved the lives of many people experiencing domestic violence."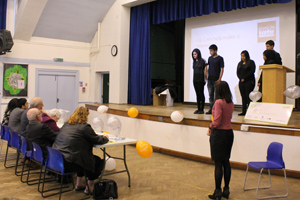 YPI organise these competitions to provide students with a hands-on, reality-based experience where they have to select a worthy charity and work with them to find out more about their work. All Year 10 students were involved in choosing a charity and presenting their case to their Tutor Group who voted on the best presentation to go through to the final.
"The YPI programme was an amazing experience for Year 10 students. It gave students the opportunity to excel in their organisational and interpersonal skills. It was great to see many students who are usually shy, come out of their comfort zone and deliver outstanding presentations to represent their chosen issue. All tutor groups performed exceptionally well and well done to 10 Orange for winning YPI and receiving £3,000 for their chosen charity, Standing Together. I would like to thank all the Year 10 tutors and Ms Slater for their hard work and support throughout the programme. YPI has given Heston's students a chance to develop themselves into confident, caring individuals who are concerned about the local community. Well done Year 10s!" – Miss Khalid (pictured above left with the winners), Assistant Learning Co-ordinator for Year 10 and organiser of the YPI evening.
Here are some comments from the finalists about their YPI experience:
Winners - 10 Orange - Karishma, Ravina, Humza, Hussam, Fahima
Charity - Standing Together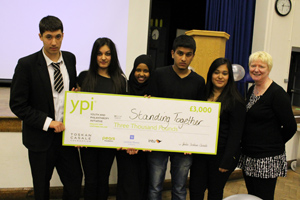 YPI was a huge success for our group. As the winners of YPI, we feel so grateful and proud of what we have achieved. Although we won the YPI challenge, what really matters to us is that we know we have made a change to people's perspective of their outlook on making a difference when dealing with domestic violence. We have to admit, we had to jump over a few hurdles in order to get to where we were but it was all worth the effort. Our group worked constructively together and to us failure was not an option as we were extremely determined to put the message out to everyone. It was a phenomenal evening!
2nd place - 10 White - Amrit, Eriona, Mahir, Sulaman, Meghna (2nd place)
Charity - Homestart Hounslow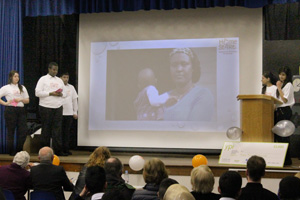 At first we were all a little hesitant towards the YPI project given that it was such a large commitment although as the competition drew closer, we all got really interested in winning. Needless to say we were all very nervous but having Margaret from Homestart Hounslow there, giving us t-shirts she really inspired us to want to win for her and her charity. Although the presentation was done, a lot of the actual presenting was done last minute and we all felt a little unprepared. But as soon as we got on stage we all stepped up and it proved to us all that we really do have the ability and confidence to present a cause that we all really believed in. It turned out to be a really fun experience that allowed us to develop many skills and really understand the local community that we live in.
10 Purple – Zeeshan Hussain, Fezi, Zeeshan, Abdi
Charity - Hounslow Mosque
Taking part in the YPI project was very interesting and productive, me and the members of my group were privileged enough to visit the mosque and it was brilliant because we were able to build a great bond with our charity and we were able to learn about local charities. Our group worked brilliantly together and we were able to pick up good group skills.