Ravinder at Twickenham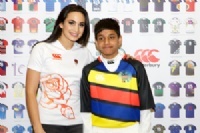 Heston's new rugby shirt unveiled in front of 80,000 at Twickenham

In September 2013 Heston Community School started a partnership with the RFU working together as part of the All Schools Rugby Partnership. This partnership is to develop rugby within the School with a focus on five core values; teamwork, respect, enjoyment, discipline and sportsmanship.
Heston Community School is provided with a package of resources that helps the School to start and sustain playing rugby, including kit and equipment, as well as coaching and young leaders' training. The hands-on coaching support deployed in schools plays a major part in forming the foundations from which the School will become a sustainable rugby-playing school after three years.
With this support rugby is growing from strength to strength. The PE department is now able to offer two after school clubs on Tuesdays and Fridays ( 3pm – 4.30pm) and has developed links to two local rugby teams: Staines Rugby Club and Feltham Rugby Club.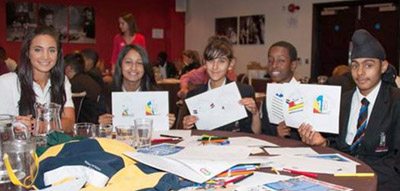 As a part of the All Schools Partnership, four students went to Twickenham to work with Canterbury, the official kit supplier to England Rugby, to design a rugby kit for the School. Students used our school colours, emblems and mottos to inspire the drawings, before the kit manufacturer produces the final version.
To find out more about the Design a Kit workshop and to view a video featuring Heston's design click here.
Last week Heston Community School received delivery of custom made shirts designed by our students.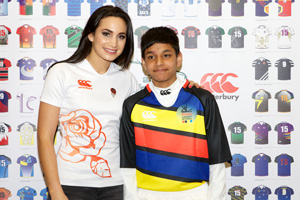 As part of a grand unveiling Ravinder Johal from Year 8 (pictured left wearing the new rugby shirt with Laura Wright, England's official anthem singer) was selected by the PE department for his effort and commitment to rugby in lessons and after school to attend Twickenham. Ravinder, proudly wearing our new shirt, was one of 100 secondary school students from across England to be involved and sing the national anthem before the start of the England v Wales match. When speaking to Ravinder about this experience he said: "It was really fun and an amazing experience to be in front of 80,000 people for the national anthem."
The new rugby kit will be making its debut in matches within the next few weeks, with continued commitment from students they can continue to build on previous games played.