Heston Music Archive launched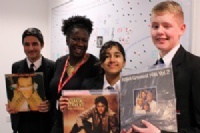 Musical memories provide the theme for the Heston Music Archive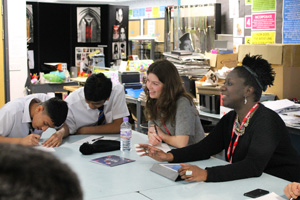 Heston Music Archive was launched on 25th February in the School's Hogarth Gallery. It has been created by artist Barby Asante and is an exhibition inviting you to listen, share and contribute your musical memories. The exhibition marks the first in a series of artistic commissions from Peckham Platform in partnership with University of the Arts London at Heston Community School. Barby (pictured right) has worked with Heston's Visual Arts, Media and Music departments on this new artwork celebrating and investigating music and memory.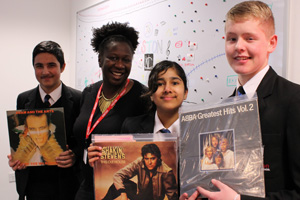 The Archive is evolving all the time with students, teachers and parents contributing their own musical memories. These memories are displayed in a variety of ways in the gallery including:
Video interviews where students explain their memorable music tracks and the reasons their choice is important in their lives
Vinyl LPs and singles, CDs, cassettes, gig tickets and journals … many of these items seem like ancient history compared to the students' digital music collections. Record players and reel to reel tape recorders are also featured in the Archive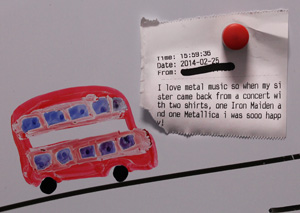 Heston's Music Map (pictured at the foot of the page) shows local landmarks and is constantly being updated with music related items such as EMI records and gig venues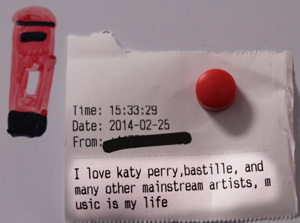 There is a text printer in the Archive that enables contributors to provide text messages concerning their music memories (pictured above and left) – many of these messages are linked to exhibits or feature on the ever growing Music Map.


The Archive is running until Thursday 3rd April when the Closing Party will feature a karaoke session featuring music from the Archive.
This is what people involved in the development of the Heston Music Archive have had to say about the project:
"In addition to the obvious educational benefits that students have gained from working with Barby Asante, the creation of the Heston Music Archive has the potential to bring together past, present and future all in one place as part of a Community Music Archive and something which can be added to and passed on to future generations."
Phil Ward – Headteacher, Heston Community School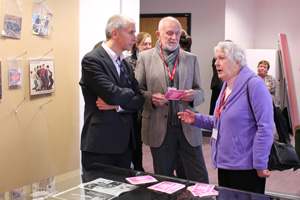 "As a partner to Heston Community School, University of the Arts London is pleased to be able to support Barby Asante's Heston Music Archive commission in the new Hogarth Gallery. We look forward to seeing how the archive will grow over the next month as the wider school community makes its own connections to the work that Barby and the Heston students have already generated.
Collaborating with a school on a gallery programme is a brand new experiment for us and we look forward to the opportunities that this will bring for the students and staff of both Heston and University of the Arts London."
Ian Thompson - Head of Extended Schools Partnerships, University of the Arts London
(pictured above left)
"This is an exciting and unusual school exhibition that has raised a tremendous amount of interest from the students. Most are only too eager to share their Mum or Dad's embarrassing dance stories and they have some really surprising and far ranging music choices of their own. The exhibition has been a very positively received event and provides a valuable ongoing resource that is available to all curriculum areas. It provides great 'out of class' learning opportunities for all students and is open to contributions from parents/carers and the wider community."
Helen Wyglendacz – Curriculum Leader for Visual Arts, Heston Community School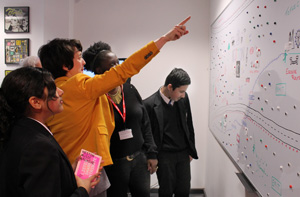 "Peckham Platform are delighted to be working with Heston Community School on the development of the exhibitions programme for the Hogarth Gallery. The current exhibition by Barby Asante titled Heston Music Archive is an opportunity to discover the personal and wider social narratives of the school through this artwork.
The Gifted & Talented Group of students from the School have engaged very positively with the exhibition's theme of legacy tunes, so much so that many more students have wanted to take part."
Emily Druiff – Executive Director, Peckham Platform
(pictured above)
"Working with Peckham Platform at Heston Community School has meaningfully extended my research into what it means to co-produce an artwork in today's multicultural Britain."
Barby Asante - Artist