Sixth Form explore Croatia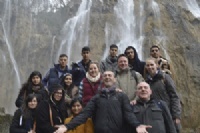 Neanderthals, Waterfalls and Electrical experiments were highlights on this unforgettable trip

During the Half-Term break 51 Sixth Form students and 14 members of staff visited Croatia.
During the four days we explored Zagreb, capital city of Croatia, and learnt about its history and political significance. Zagreb is a city with a rich history dating from the Roman times to the present day. It is the seat of the Croatian Government, administrative bodies and almost all government ministries. Almost all of the largest Croatian companies, media and scientific institutions have their headquarters in the city. Zagreb is the most important transport hub in Croatia where Western Europe, the Mediterranean and Southeast Europe meet, making the Zagreb area the centre of the road, rail and air networks of Croatia. It is a city known for its diverse economy, high quality of living and museums as well as hosting sporting and entertainment events - a global and cosmopolitan city.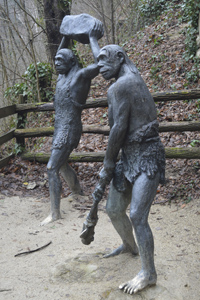 On our second day we visited The Krapina Neanderthal Museum. This museum covers a surface area of around 1,200 m² and is one of the most modern museums in Croatia and central Europe. Neanderthals (pictured right and with students in the image at the top of the page) are the magical and mystical ancestors of the European people and hold one of the many secrets of the beginning of our species. Who were these people that lived between 30,000 and 300,000 years ago? How did 19th century science discover them and interpret what they found? What do we know now, at the turn of the third millennium, about these Stone Age people who used to hunt for rhinoceros in this area 125,000 years ago? During our time at the museum we learnt about evolution of human species and our close relatives.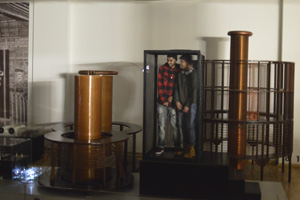 On our return to Zagreb we visited the Technical Museum and learnt about Nikola Tesla. He was an inventor, electrical engineer, mechanical engineer, physicist, and futurist best known for his contributions to the design of the modern alternating current (AC) electricity supply system. Students had a chance to see and take part in some of the experiments that Tesla carried out.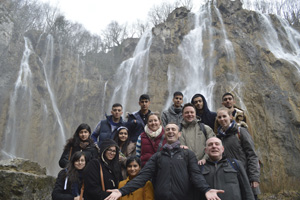 The highlight of our trip was visit to the Plitvice Lakes National Park. This national park was founded in 1949 and is situated in the mountainous karst area of central Croatia, at the border to Bosnia and Herzegovina. A beautiful sunny day allowed us to explore and wander around hundreds of waterfalls and many lakes.

We have tried Croatian food, learnt about its turbulent history, visited many significant places and spoken few Croatian words during our trip.
Hvala Hrvatska (Thank-you Croatia)
Mr T Maric – Teacher of Humanities and Trip Organiser
Visit the Gallery Page to see more images from this trip