Eton's Storyteller at Heston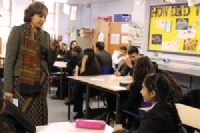 Eton's Sage in Residence guides students on Rama's adventure

In recent weeks five Tutor Groups chosen from Years 7, 8 and 9 were given an opportunity to showcase their vocal talents on stage in front of their peers over three sessions of Religious Education.
Dr Vayu Naidu, Sage in Residence at Eton College, visited us to share their story of Ramayana with these selected Tutor Groups. Dr Naidu and her colleagues tell stories to their readers and listeners and capture the truth behind each story. Heston's students were given a religious epic of a story in the form of Ramayana, which means Rama's adventures.
Eac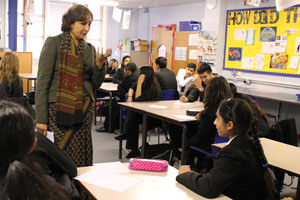 h class was given a section of the epic story to read out in front of their peers. However, they had to write poems, scripts and passages to get the message across and inform us of the background behind their fragment of Ramayana.
Each Tutor Group performed in unique ways, plays, interval readings and speeches. It was a great success and it clearly showed how thorough the students had worked beforehand. Many students shone whilst performing and it highlighted the depth of talent that Heston holds.
Overall, it was a great experience to have a professionally trained and qualified storyteller come in to school and share a Hindu epic. It provided the students with knowledge, confidence and insights.

Dr Naidu enjoyed h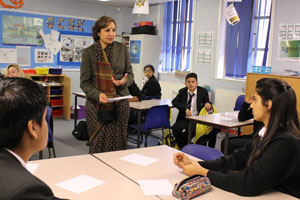 er time at Heston and said: 'It was wonderful seeing how hard they worked in groups getting over peer pressure of first laughing and then getting down to either draw, come up with images from the story that they imagined and writing up their own poems and dialogue. Heston's pupils came up trumps!'
Report by Nikhil Singh, Year 9 Student