Ramisa's design goes into print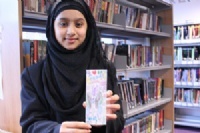 Year 7 Ramisa's bookmark design is a winner!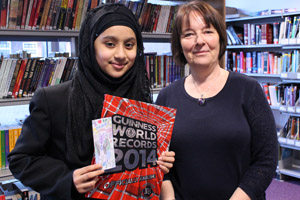 Ramisa's colourful and creative design (below right) won the Bookmark competition organised by the Library.
Ramisa won the 2014 Guinness Book of World Records as her prize but will also have the pleasure of seeing her work turned into a bookmark that will be available for LRC users.


Learning Resource Centre Manager and organiser of the competition, Carol Wakefield, presented Ramisa with her prize.
Ramisa, a Year 7 student, said: "I was really pleased to win the competition ... I like all books and my design reflects that!"
The comments that are on Ramisa's bookmark reflect her love of reading - Reading is the best thing to do!, Reading is fun! and I love to read!