Amee's Speak Out Prize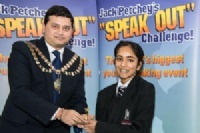 Year 10 student Amee Nakum wins Regional Bronze Award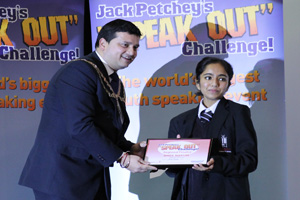 Amee Nakum took third place in the Jack Petchey Speak Out Challenge Regional Final which took place in the Assembly Hall on Monday 9th December.
Year 10 student Amee represented Heston Community School as did Akash Khambay after being nominated by their fellow students following impressive speeches in public speaking workshops organised by the school in conjunction with the Jack Pethchey Foundation. The competition saw Amee and Akash competing against the best public speakers from 13 schools throughout the Borough.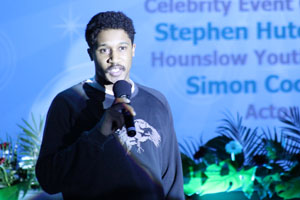 The contestants spoke on a subject of their choice and were marked on content, structure and delivery. The judges, who included Michael Marks, Hounslow's Assistant Director of Education, Councillor Lily Bath and Simon Coombs, the Holby City actor (pictured right), had a difficult night as the standard from all competitors was very high ... hardly surprising as they were all winners from their own schools.
Headteacher, Phil Ward, welcomed competitors, their families and friends, teachers, judges and guests, including the Mayor of Hounslow, Councillor Sachin Gupta.
Akash (pictured left) was the first student competitor to speak and talked about Sporting Idols and particularly his favourite Cristiano Ronaldo. A variety of subjects was covered by seventeen students from other schools before Amee (pictured right) spoke.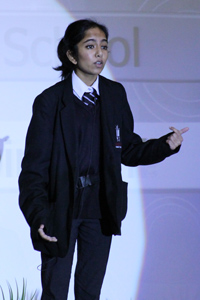 Amee's speech was titled "Divine Inspiration" and told how Pandurang Athavale, the philosopher and spiritual leader who Amee had met with her parents when she was four, had changed so many people's lives and inspired her to be honest grateful and generous.
Click here to view Amee's speech on the Jack Petchey website.
Heston students Rawia and Zeenat entertained the audience with their excellent rendition of Valerie and Gurdeep and Fabian's dhol drumming provided the perfect build up to the Oscar style opening of the gold envelope that contained the winners' names.
The announcement of Amee's third place was greeted with cheers from the audience and particular the Sixth Form student team who did a great job in helping to stage and run the evening.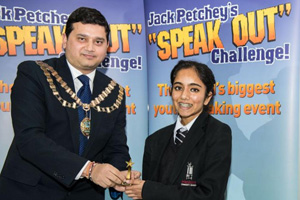 Amee, who was delighted to receive her third place trophy from the Mayor and a £25 prize, said: "I was really pleased I took this chance even though it was a bit nerve-racking. I was really passionate about my speech as I wanted to change people's attitudes to life. In this day and age people don't think twice about what they do – if my speech inspires people to change their ways and do good I'll be very pleased."
Assistant Headteacher, Margot Currie, who liaised with the Jack Petchey Foundation to run the workshops and to stage the finals, was also delighted and said: "It was a great pleasure to host the final of the Speak Out Challenge at Heston. The standard of all the speeches was excellent and the evening flew by with students demonstrating their well honed skills. Heston is particularly proud of its two participants who represented the school so well."