Head Boy and Girl team appointed
Congratulations to Aman and Zahra and the nine Sixth Form students who make up their team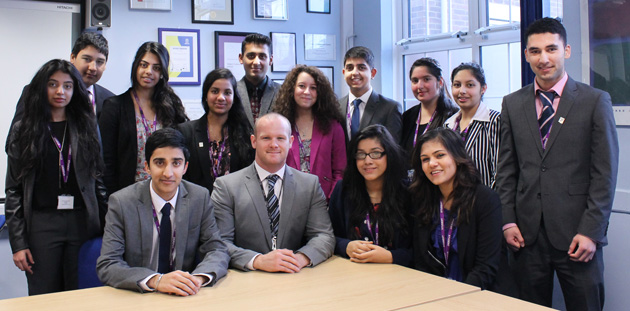 Following a detailed assessment of candidates including presentations and interviews with Mr Evans, Learning Co-ordinator for the Sixth Form, and Headteacher, Phil Ward, the appointments of Aman Ghataura as Head Boy and Zahra Choudhry as Head Girl were announced.
Other key roles were filled by the following Sixth Form students:
| | |
| --- | --- |
| Deputy Head Boy | Arjun Varma |
| Deputy Head Girl | Yusra Chemmach |
| Assistant Head Boy | Amarjeet Cheema |
| Assistant Head Girl | Nadia Patel |
| Head of Student Council | Omar Hijazi |
| Head of Student Council | Harveena Padda |
| Head of Charities | Zeenat Beg |
| Head of Charities | Susmitha Dhavala |
| Year 7 Intervention Co-ordinator | Sahar Aman |
| Year 7 Intervention Co-ordinator | Gunit Kaur |
| Sixth Form Sports Co-ordinator | Javad Khan |
To find out the Senior Student Team's views on Heston's Sixth Form and some of their plans in their new roles visit the Year 12 & 13 page of the website
Both Mr Evans and Mr Ward commented on how difficult their decision had been due to the exceptionally high quality of all the candidates.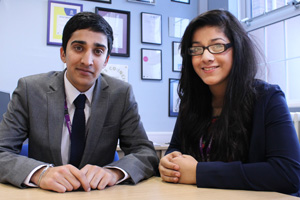 Zahra (pictured right with Aman) is following in her sister Sabah's footsteps as Head Girl at Heston and is looking forward to the responsibility: "I appreciate that I have to fill in the space of some past amazing Head Girls, one of them being my own sister! However, I would like to thank everyone for their support and belief in me, and I hope I do everyone proud."

Aman is also looking forward to working with the team appointed: "I would like to congratulate all the other members of the team, and look forward to this year of working together to leave a positive legacy. In my year I plan to help integrate the School into the wider community and to aid Sixth Form students plan for their future. I am immensely grateful for my appointment and delighted to be Head Boy, it is a real privilege to be able to represent what this school stands for."
These students will play an important role in the School helping organise a variety of events and equally importantly being positive role models for younger students.
Congratulations to them all!